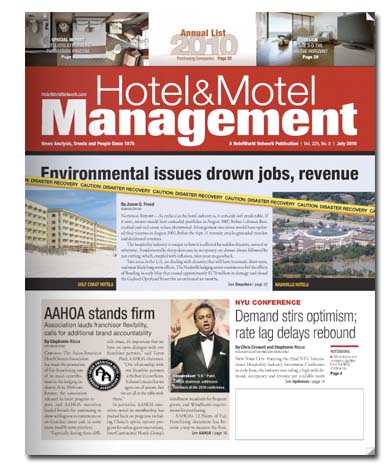 Questex Media has put in place a new management team for Hotel & Motel Management magazine. John McMahon will rejoin the team as vice president and group publisher after spending the last two years relaunching Questex's Travel Group products.
Additionally, Travel Group vice president and editorial director Ruthanne Terrero will take on the added responsibility of overseeing content and editorial functions at Hotel & Motel Management and the entire HotelWorld Network, which includes Hotel Design Magazine and HotelWorldNetwork.com. Stacy Silver was promoted to executive director of Hotel & Motel Management. Previously she served as executive director of digital media and executive director of events.
"We see this as a true merger of the Travel and Hotel Groups," Terrero tells FOLIO:. "There is a tremendous amount of knowledge about the Hotel side of the industry with this new leadership, which we're excited to put into effect."
As a result of the changes, Hotel & Motel Management's previous editorial director and publisher positions were eliminated "due to redundancy." One Cleveland-based reporter position also was eliminated with plans to eventually hire a new reporter in New York City.
Paul Heney, the title's former editorial director, couldn't be reached for comment but said over Twitter: "I've entered the realm of the jobless. If I have any disappointment, it's for the way fellow co-workers were let go. Time 4 summer vacation."