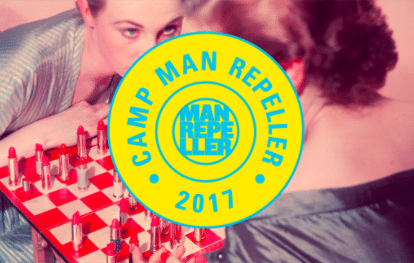 Man Repeller is going to summer camp, but don't expect to tag along. The digital fashion vertical sold out all 110 tickets to Camp Man Repeller within 72 hours of announcing the event.
The three-day sleepover, June 2–4 in the Adirondack Mountains, was designed to bring together the highly-engaged community of commenters for an offline event. It's the first year of summer camp for the brand, which first launched events in July of last year in the form of monthly community gatherings, such as the whisky tasting held in December.
"Everyone talks about the friends they made at camp, and these very special friendships," intergrated marketing strategist Jasmin Aujla tells Folio:. "That's very reminiscent of the friendships that have been made on Man Repeller."
Man Repeller's digital audience is 90 percent female, and primarily between ages 18 and 35, though readership tips toward the 24 to 35 range. This is reflected in the restrictions of the event: attendees must be female-identifying and over the age of 21.
Aujla says that the digital audience is 60 percent U.S.-based, and 40 percent international, and that attendees are traveling from around the country, as well as internationally, for the camp.
While events have quickly become a driving revenue source across the media landscape, Aujla says the primary objective of Camp Man Repeller is community and audience engagement.
"It was really to dip our toes into what Man Repeller looks like as a real life experience. Community building — that's really our motivation."
Case in point: Tickets are priced at $290 so that they are affordable to a large sector of the Man Repeller audience.
While the team didn't share the names of any specific sponsors, Aujla says she expects to have brand partners associated with various activities (think yoga and s'mores), as well as to provide "really nice goody bags."
Man Repeller first launched in 2010 as the personal blog of Leandra Medine, chief creative officer of the brand. It has since grown into an 18-person operation of humorous writing, video, and podcasts. In addition to events, the brand has digital advertising and sponsored e-commerce.
Editor's note: The story originally stated that tickets sold out in 48 hours, and that there were 125 tickets available.