Making Video Pay

Video ads are the largest revenue stream for Themis Media.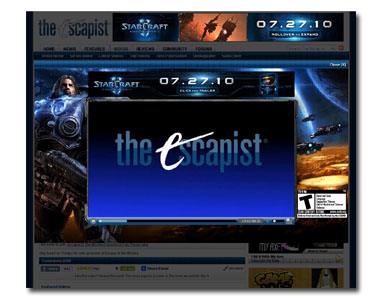 With some exceptions, online video has proven to be a more effective editorial tool than revenue stream for magazine publishers. And as resources continue to shrink, even that may be declining-new data from video technology platform Brightcove says magazine sites streamed 174 million videos in the second quarter of 2010, down 7 percent from the first quarter. That decline comes after eight consecutive quarters of growth in video streams (although magazine and newspapers continue to post more online video that other media outlets, according to Brightcove).
However, some publishers are having tremendous success with video as a revenue generator provided it's the right fit for the market and the publisher invests in developing quality original video, rather than thinking they can magically tap into user generated content.
Themis Media, a publisher of video game related content, sees more revenue and more traffic from original video than any other channel, with about 7 million video streams generating around 25 million page views. "Our strategy is to create branded series," says president and CEO Alex Macris, who points to popular Themis video shows targeting gamer culture such as Zero Punctuation, Escape to the Movies and Unskippable. "As a result, we create loyal users to watch shows they know about instead of aimlessly searching through the vagaries of user generated content."
Video ad options include pre-roll and post-roll spots and video overlays. Themis' latest addition is a custom video skin that surrounds the video player. Themis is also capitalizing on an emerging business model called "cost-per-completion" advertising. "In other words, the advertiser will pay you for completed pre-roll rather than just the beginning of a pre-roll," says Macris. "That's important for advertisers because a lot of users on YouTube are randomly surfing and if they hit a pre-roll ad, they stop and go to another video. Advertisers don't want to pay for people who haven't been exposed to the ad."
Macris says Themis has a 97 percent completion rate for its pre-roll advertising and gets a $25 to $30 CPM on pre-rolls. Video skins offer a $45 CPM with a 6 percent to 10 percent clickthough rate. "This is definitely more expensive than doing text-based Web content, but if you factor in that you can get a $5 CPM for display ads and a $25 CPM for video ads, it's pretty clear this is a good investment," he adds.
Macris also contends that original video is immune to ad networks driving pricing down. "Unlike display ads, video ads are holding strong because it's harder to find premium video," he says. "So many ad networks are aggregating poor display ads that it's forcing the market down. If people want to advertise with user generated content, they go to YouTube, they don't need ad networks for that."
However, video advertising won't work for all markets–or all products. "If they don't have a great 15-30 second spot or a product that works with that, then it's not the right fit," says Macris. "If they're doing a movie or new game, great. If they're doing a book, not so much. The biggest misconception is that they can do longer pre-rolls than they can. Advertisers want to do five-minute pre-rolls. Maybe you can do that before a movie but on the Web, most of the content they're coming to see is five minutes long."
While Macris says print has taken the brunt of ad dollars shifting to online video to date, online dollars will be diverted from television budgets going forward. "You're going to see a shift toward larger budgets and better ad units, because more people are substituting online video for their TV viewing."
Video is increasingly being packaged with social media campaigns. Themis builds videos that may feature a Twitter hash tag that allows the consumer to interact with the brand (Themis built a similar social media package for the Aliens vs. Predator game series). "Ultimately, when you can offer a complete solution, that's where you'll derive value," says Macris. "The pricing gets complex but you have to look at the ROI for the client and the cost for creating these custom units. It ends up being a mix of creative and media spend for the client."
Meet the Author
---