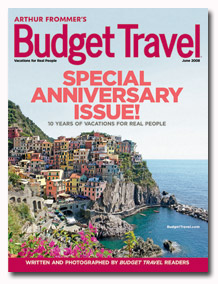 SEE RELATED STORY: Magazine Publishes 100-Percent User-Generated Issue
If there's one thing—above even the emphasis on value—that sets Budget Travel apart, it's that we don't just make the magazine for our readers, we make it with our readers. Four of our recurring sections revolve around our community: 20 Tips, Trip Coach, True Stories, and Budget Travel Upgrade (and that doesn't include Letters to the Editor).
So for our 10th-anniversary issue (June), it seemed natural to let readers generate the entire magazine—text and photography. Not only would the issue be inclusive rather than exclusive, it'd be a nod to one of the major changes to have affected travel industry in the past 10 years—namely, that consumers are turning to each other as much as to so-called experts.
We sat on the idea for a couple of weeks, wondering if we could really pull it off. Then, in the words of Van Halen, we figured we might as well jump. We began running call-outs in the magazine and online, as well as in our e-mail newsletter. Some of the call-outs were broad ("Want to be a travel writer? Pitch us a story") and others were very specific ("Are you enough of an expert on Chicago to review three guidebooks to the city?"). We asked for reasons people love New York City, readers' favorite local restaurants, spectacular photos to run on our cover (the first submission was of a toothless man holding a fish), great supermarket souvenirs, lessons travelers had learned the hard way, and much more. The response was tremendous: We received almost 2,800 in-depth pitches for the "Want to be a travel writer?" story alone.
Occasionally someone would ask if we were doing a reader-generated issue because it was cheaper or easier. Let's be perfectly clear: Making this issue was neither cheap nor easy. First, we paid our regular fees; second, we traveled more writers than we normally would (we tend to find people who live someplace); finally, we also paid for companions' expenses (something we don't do for professional writers). And without an extraordinary amount of deft editing—both in terms of generating ideas, sifting through submissions, working with non-professional writers and photographers, and actual text-editing—the issue would've been a mess. Editing non-professional writers' words is never easy.
But the limitations also brought out our creativity. For 20 Tips, we normally have an illustrator illustrate a few of the tips; for this issue, we got readers' kids to do the drawings. For the Budget Travel Upgrade, we tracked down our longest running subscriber—William Herndon of El Paso, Texas—and brought him to New York for a night at the opera. Instead of the standard service Q&A, we turned the tables: Readers answered our questions. Better yet, we took their advice (with photos to prove it).
Travel is something that few of us do often enough to really feel like we understand the system, let alone to game it. All we can do is share our knowledge, pool it, and together we can travel more intelligently, more affordably, more rewardingly. And in that spirit, our June issue is a rare thing: a commemorative anniversary issue that looks to the future, not the past. Because in the future, love it or hate it, an editor's role will be to lead a conversation, not deliver a monologue.