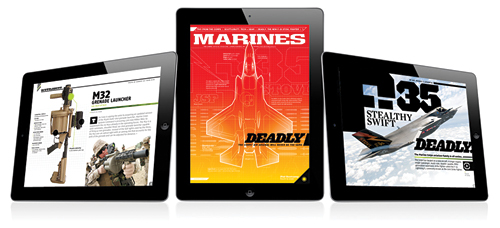 Marines is the official magazine of the United States Marine Corps, a communications mainstay for five key audiences: active Marines, families of Marines, potential Marines (at any given point, the Corps needs 43,000 people to join to keep up with normal attrition), retired Marines, and constituents of the Marine Corps—such as schools, law enforcement, and The Marine Corps League. But to serve today's Marines, it needed to be a media brand, not just a good-old ink-on-paper magazine.
Marines has had an on-again, off-again history before settling into its current iteration. The publication debuted in the early 1900s (the earliest record the staff has is from 1919) in newsletter format and became the official publication of the Marine Corps in 1983. It went monthly at that time, adopting the magazine format (the remake authorized a color cover but internal pages remained black and white) with circulation of 25,000 to 30,000.
Greg Reeder became director of Marine Corps News and editor-in-chief of Marines Magazine in 2001. "We reduced the magazine to quarterly to save costs so we could add staff, then we gradually increased circulation so we could inform Marines on a variety of issues," says Reeder.
Today the magazine is published seven times annually (quarterly with three special editions), with an average print run of 75,000 copies. Marines is not ad-supported and generally speaking, it costs about $500,000 annually to publish. The magazine is currently funded by the military but that may change in the future (at press time, Marines was waiting on a ruling from the Secretary of Defense).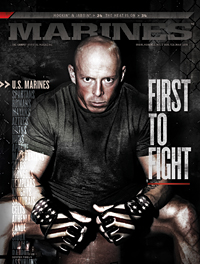 Since Reeder took over, Marines has undergone several aggressive redesigns with Bates Creative that put it on the path to becoming an award-winning magazine (specifically, the Thomas Jefferson Awards, which recognize excellence of publications at the military department level, as well as FOLIO: Ozzie Awards for design and Hermes Platinum Awards in several categories, including writing, design and photography). "We wanted to take it from a stale, military-type publication and liven it up," says Reeder. "Up until that point, Marines was viewed as, 'Oh, isn't that cute, the Marines have a magazine.' Now we've won the Thomas Jefferson Award for general excellence four times."
The most recent redesign of the magazine took effect in the beginning of 2009, coinciding with a redesign of the website, which switched from a Flash-based design to Word Press. Last fall, Marines debuted an iPad edition and last month updated the web design again.
"The most recent change was put in place to ensure we are keeping pace with our digital iPad delivery and that we remain on brand with other Marine Corps web design standards we are in the process of implementing," says Reeder. "As  result, our blog and magazine sites are leading the pack into these new design formats."
Content has changed as well. "The focus of our stories is typically geared toward the Marine air ground task force elements of aviation, ground forces, and supporting elements," says Reeder. "We also try to use shorter content formats, and overall topics that Marines, their families, prospective Marines and Marines no longer on active duty might find useful, interesting, fun or informative."  
Adding Tablets to the Mix
Marines' first iPad attempts were based on a custom app, but the magazine moved to Adobe's digital publishing suite as well as Adobe SiteCatalyst. The iPad app (which is available for free) is growing at a rate of 2,000 new readers per month.
The iPad edition features exclusive stories not found in print, direct links to social media outlets, high definition video and interactive content.
"The goal of the iPad app was to take a 'best of' look at the magazine knowing that the people who downloaded it might not be actual Marines, but could be high school students interested in joining the Marine Corps," says Debbie Bates, president of Bates Creative. "We wanted manageable page counts for the first few issues but we also wanted to add in interactive elements and 360-degrees views of things like weapons."
Bates Creative and the Marines staff handpick the content and redesign every page from the print edition for the iPad. "It's not just a replica of the print magazine, we're redesigning pages so they're super user-friendly," says Bates. "The biggest challenge was just getting used to a new way of thinking and working with new types of suppliers like Adobe and Apple to get everything configured properly. We think we're ready to roll in a very streamlined fashion. We've gotten feedback on the iPad app from different awards programs that said it was robust enough, and easy to use and dynamic enough without going over the top and being annoying like some of the initial magazines on tablets ended up doing."
Every Marine is an Editor
(And a Blogger, a Social Media Expert, a Photographer. . .)
Marine Corps doctrine states that "Every Marine is a rifleman" no matter what their assigned role, and that can-do attitude also translates to the staffers of Marines.  Staff turnover is a fact of life for every magazine but it's built into the core of Marines, which is faced with the prospect of turning a constant rotation of personnel into publishing experts in a short period of time. "We need to utilize who we have that's available, not just one person assigned to a specific job," says Reeder.
That's especially true since Marines became a multi-platform brand. "Today we have a couple people dedicated to the magazine for editorial and the rest of the team chips in to gather content and help with things like photo editing," says Reeder. "My total shop has 20 people but at any given time there are three working on the magazine."
Each staffer is an active duty Marine (except for Bates Creative Group and a web developer, who are considered "honorary Marines"). Reeder is a Marine reservist/civilian employee (and former Command Operations Officer at Marine Corps Pacific).
Staffers need to get up to speed quickly. "The cool thing about the Marine Corps is that Marines will do whatever they can to get the job done, whether they know how or not," says Reeder. "For example, our social media manager will now be editor of the magazine. We sent him to Syracuse University for a year for a photojournalism course and when he showed up, we said 'you're the social media manager, go figure it out, you start next week.' There are always growing pains with what we do because someone new is always coming in. Our broadcasters are trained broadcasters but they are not trained social media guys. Our magazine guys are trained in magazines but not broadcast. There is a lot of cross-training going on."
Giving a Voice to All Constituents:
How Marines Blurs the Lines of Communication
The magazine website drives 500,000 page views any given week while Marines has 1.4 million fans on Facebook and 45,000 Twitter followers.
"When we add it all up the reach is about 4 million potential viewers of all the products combined," says Reeder. "I tell my staff that with everything we do, we have to blur the lines of communication so we can maximize all those audiences. Our video guys make sure that stuff gets loaded onto YouTube, which in turn gets put out on Facebook to draw in audience members who may not be connected to our video output. We want to make sure we put out an iPad version so we can include multimedia content from video."
Marines conducts audience surveys online, and finds (as with most magazines) the age demographic of readers tends to be a little older on the print side, although print is also key for Marines deployed overseas who may not have access to the Internet. With the website and other digital products, Marines sees a higher concentration of senior leadership, as well as families of Marines.
Today, Marines has become much more of a social platform with its constituents. "The thing about an online presence or even a tablet presence is that it gives people the chance to respond," says Reeder. "We had to really consider the commenting feature because once you let the genie out you can't put it back in, but that turned out to be one of the best decisions we made."
Reeder cites an article about a Marine who was killed in combat. "Lots of people comment on lots of things," he says. "However, one of the people who commented on that story was that Marine's mother. She wrote a pretty moving comment about her son. If we had not made that decision, she would not have been able to share her story, which was equal in impact to the story itself. She wouldn't have had that voice to talk about how great her son was."