Behind Interview's Ink-and-Foil Cover

September issue a 'first for North American magazines.'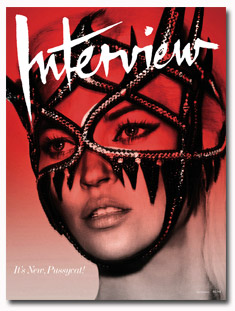 Last week, Brant Publications unveiled a dramatically redesigned Interview magazine. With the September issue, the new look included a larger trim size (13" x 10" from the current 12" x 10"), was perfect bound and used a heavier stock.
Most notably, however, was the cover—a striking foil-and-ink design Brant says is a first for North American magazines.
"We were trying to get people who haven't looked at Interview in a while, or ever, to give it a look," co-editorial director Glenn O'Brien told FOLIO:.
From creative to production, Interview's foil-and-ink cover was made in collaboration with several groups including Interview's regular printer (Brown Printing), Server Graphics and Bloomfield, Connecticut-based Finlay Printing. According to Finlay product manager Richard Cotsonas, the company used what it calls the Brilliance Foil process to develop the special ink-and-foil cover.
"Brilliance starts with file preparation, where we incorporate the foil effects as a solid or a fine screen into the images," Cotsonas said. "Then we output a metallic rendition, which is a full color rendering with foil to show the foil as it will be printed. Once we have agreement on the location of the application, the foil is applied in-line on our new custom eight-color 41-inch printing press."
The foil is applied to the sheet and then printed on to "fully integrate the two into the images in perfect register," he said. The entire process, generally takes two to three days.
Once the covers were printed, special care was needed during the binding and distribution processes. "In terms of binding and printing, the foil cover is sensitive to scuffing," Interview's director of manufacturing, Rena Rully, explained. "The bindery team at Brown tested the covers in advance on the bindery and created a binding plan from that test that cushioned the cover form the equipment in key areas."
Brant Publications declined to say how much the ink-and-foil cover cost to develop and produce.
In a further step to help protect the foil cover, Brant slip-sheeted copies that were distributed to newsstands, Rully said. Copies sent to subscribers were polybagged.
While the foil-and-ink cover was a first for Interview, Brant didn't rule out doing another. "We hope to have lots of surprise covers," O'Brien said. "I think there will be more surprises this year."
Meet the Author
---