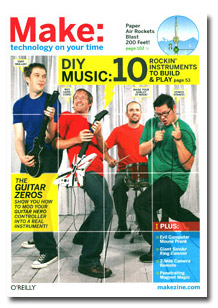 Make magazine—the well-regarded quarterly for do-it-yourself gadget geeks—has announced a new service using Twitter, the social Web messaging platform, allowing users to send the magazine instant messages, or "tweets" as they are called in Twitter-speak.
This is the first time a magazine has offered customer support via Twitter, Make says.
"This is new terrain for magazines," Make senior editor Phil Torrone told FOLIO:. "We would send out messages on Twitter whenever we'd post a new story, and we'd find people were talking back as if Make was a real person."  
Twitter, for the uninitiated, is a service that friends and/or groups can use to share updates and stay in touch.  Twitter posts (known as "tweets") contain up to 140 characters, and are transmitted via email, phone or the Web.  Make's Twitter feed, which has more than 2,000 followers, can be accessed here.
Make, published by O'Reilly Media, has a paid circulation of 100,000, with a readership of about 250,000, the company says. Its Web site averages about 2 million unique visitors a month.
The Make Twitter is equal parts marketing and customer service. Torrone said he answers each "tweet"—everything from subscription requests to changes of address which number 30-40 a day— himself. "With Twitter, users expect a response right away." Make recently offered its followers on Twitter a discount on subscriptions, and sold 50 in two days.
Torrone said Make also experimented with the service at its recent Maker Faire, broadcasting the conference's schedule on-site. "People were using it 'Tweet-up,'" Torrone said. "It was like, 'Let's meet at the giant mousetrap at 3, and head over to the Diet Coke and Mentos explosion at 4.'"
Torrone added that he hopes other publishers experiment with the Twitter platform, but acknowledged that Make's inherently experimental audience would be more receptive to Twitter than those of other magazines. "As 'Makers,' we're all used to spectacular failures."