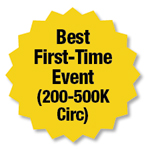 There is little argument that creating an event can be a daunting task. However, creation is in the DNA of O'Reilly Media's MAKE magazine. MAKE is a magazine dedicated to a movement of innovation and creation. The target audience is inventors, builders, hackers and tinkerers, and last year the magazine successfully launched a workshop for hardware innovators.
The Hardware Innovators Workshop was held May 15-16 and hosted over 200 attendees at the PARC facility in Palo Alto. Workshop attendees were an eclectic group ranging from innovators to investors. "We are trying to showcase the maker community, but also help incubate opportunities for makers. Ultimately we want to be seen as a source of innovation," says Dale Dougherty, co-founder and CEO.
MAKE already hosts a multi-city large event—the Maker Faire—that also celebrates and showcases the DIY movement. However, the Hardware Innovators Workshop is a smaller deep-focus event that specifically speaks to the hardware development community, a community that Dougherty identifies as burgeoning. "We are beginning to see signs that hardware is a business that startups are getting into, and our community especially are some of these startups," he says.
MAKE compares the proliferation of open-source hardware innovation to the recent boom in open-source software. The goal of the workshop is to harness the rapid advancements in order to create sustainable business models.  Tim O'Reilly, co-founder of MAKE and CEO of O'Reilly Media MAKE the event as "a gathering of more than 200 big thinkers who are on the leading edge of the DIY maker community," adding that, "hardware is again redefining the maker movement, with makers' tech turning into consumer products at incredible speeds."
The workshop's format was as unique as some of the hardware inventions themselves. Held over a day and a half, the fist day included a featured exposition of 25 startup companies and their breakthrough inventions. Projects included robotics, consumer devices, healthcare products and a variety of 3D printing technologies. Keeping with that, there was also an in-depth demonstration on 3D printing technology. MAKE and its community have been at the forefront of technology and are planning a buyers guide slated to be released later this year.
In addition to highly visual demonstrations, the workshop also featured 30 speakers. Like the attendees, the speakers boasted varied backgrounds. Tinkerers, entrepreneurs and Silicon Valley CEOs offered up tips, tricks and open conversations to standing-room-only crowds. "We wanted to create an event where people could interact and socialize. In a sense, we wanted people to share their war stories," Dougherty says.
Looking ahead, MAKE will double the occupancy size for its 2013 event. The workshop created a buzz amongst attendees, and Dougherty has received a lot of motivational feedback. "There is a company called Pinocchio that attended the workshop, I recently spoke with one of its cofounders who came last year with a sketch of what his company is building. This year he will be bringing a prototype of what they built. For me, it's things like that that are a real win for us."