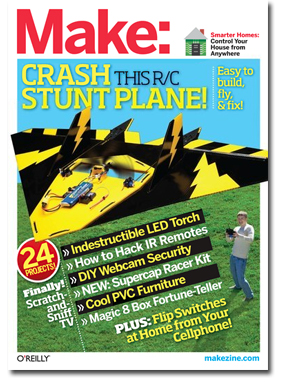 Make magazine is harnessing the power of Google through a new interactive campaign that leverages a variety of aspects from social media, online gaming, audience development and live events, with the launch of its Maker Camp on Google+.
Maker Camp, which is sponsored by the quarterly Make magazine, an O'Reilly Media property, is a virtual summer camp for teens, with a focus on creating, building and discovering. Users can sign up to do 30 projects all brought to life through Google+ over 30 business days. On the July 16 launch day, the Google home page even promoted the venture—which linked directly back to Make 's website—enabling millions of people to learn about the project.
"Google had come to us, and they had been working on this idea," says Sherry Huss, the maker-in-chief, who runs the group's publishing, e-commerce, online and event divisions. "Google+ is a natural community space to congregate and share ideas. It's pretty experimental and new, but we're incredibly optimistic that this is the future for engagement with audiences—it takes away all barriers."
The Make brand has a multifaceted strategy in place. The quarterly printed product has a total distribution of more than 300,000. Makezine.com—the brand's online source for DIY projects, tech reviews, gadgets, and more—reaches 5.2 million monthly pageviews and 2.5 million unique visitors. There are close to 50,000 Make Twitter followers and over 50,000 Facebook fans.  
In addition to its print magazine, website and social media properties, the group's live event—Maker Faire—has grown from about 20,000 makers and attendees to about 225,000 across three annual events in San Francisco, Detroit and New York City. Its e-commerce site, Maker Shed, sells DIY kits for audiences looking to do at-home science experiments and craft projects. This latest venture with Google, says Huss, is designed to capture enthusiasts across all of its properties.
"It's a virtual summer camp designed around a stay-away camp model," says Huss. "What we're doing here is addressing the needs of our audience. They're on mobile devices and they lead a lifestyle where they want greater interactivity. One of the great things about Google+ is its on-air hangouts, where you can pull together an audience and share things in real-time, and that's the world we live in. It should be important to any publisher creating media."
Through Google+ and Google Hangouts, Make's "explainers" (company engineering interns and editorial staff) act as camp counselors, showing viewers how to build things at home, such as a vinegar rocket or Mason jar terrarium.
Users tune in to the Make page at a designated time to watch the hangout on air with a camp director—once the hangout starts, viewers are be able to ask questions and contribute to the conversation by typing in the comments section. The counselors execute projects through a live video.
More than 378,000 Google+ users have added the Make page to their circles and the Make Google+ page has been +1'd 380,000 times. Maker Camp counselors have seen huge growth to their own pages, with some counselors growing their following by more than 35,000 since the announcement and others by more than 60,000.
On the Google+ page for the virtual camp, a link to the magazine's website is prominently displayed, and the "about" section shows links to all of Make's properties. In addition to promoting itself, the Maker Camp also has been able to leverage existing relationships with its live-event sponsors through virtual "field trips."
"We know from Maker Faire that our audience wants more," says Huss. "I have parents that say, 'This kind of programming isn't being addressed in school. I want more, how can we make this happen?' I couldn't think of a better way than pulling together makers to execute projects in an environment that anyone access. Most people have access to some online device."
Make  has several partners for this project, including the American Library Association, NASA, MythBusters. National Geographic and the Smithsonian Museum, among others. Huss says the project—which took about six weeks to create and execute—is audience-driven and community -supported with engagement.
"This program has been viral and dynamic," says Huss. "Because we have a publishing arm, an e-commerce arm and an events arm, some of this will spill over. I would love to get more subscribers to the magazine, more folks that are purchasing kits and becoming aware of Make and Maker Faire as a result of this, and I believe the needle will move. Using Google+ lets us reach people we wouldn't normally reach. It's incredibly ambitious, and extremely fun."
Watch a video about Maker Camp here: