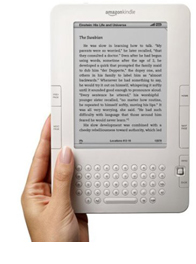 Magazine publishers may want target their future e-reader strategies on their more affluent audiences.
Out of the approximately 2.1 million U.S. adults who own electronic book readers, 87 percent have household incomes of $100,000 or more annually and 111 percent more likely than the average adult to have a bachelor's or post-graduate degree, according to recent data from Mediamark Research & Intelligence (MRI). E-reader owners are also 11 percent were more likely than the average adult to own their own home.
Adults that own e-readers are also more likely to be heavy Internet users. In fact, 199 percent are more likely to access the Internet outside of the home via WiFI or wireless connection during a 30-day period and 154 percent are more likely to have access the Internet using a cell phone or other mobile device.
"Clearly, users of the current generation of e-readers are highly educated, upscale and Internet savvy," Anne Marie Kelly, SVP, marketing & strategic planning, MRI, said in a statement. "With Sony preparing to ship its Reader Daily Edition and Barnes & Noble [recently launching] its Nook product, it will be interesting to see how quickly e-books catch on in greater numbers with the more mainstream population."
Conde Nast, which publishes titles mostly aimed at the affluent, recently announced its own initiative to build a magazine application (in a partnership with Adobe) that will enable the company to deploy its magazines on a number of digital devices, including e-readers. The first product will be a prototype of Wired, which will launch in spring 2010. Other titles will follow later in the year.

PROFILE OF U.S. ELECTRONIC BOOK-READER OWNERS
Percent More Likely Than Average U.S. Adult to:
∙ Have accessed the  Internet outside the home via WiFi or wireless connection (in last 30  days):  199 percent
∙ Have household income of  $100,000 or more annually:  87 percent
∙ Have accessed the  Internet with a cell phone or other mobile device (in last 30  days):  154 percent
∙ Be a heavy internet user:  116 percent
∙ Have a bachelor's or post-graduate  degree: 111 percent
∙ Be between the ages of 35-54:  20 percent
∙ Be male: 16 percent
Source: MRI's Fall 2009 Survey of the American Consumer