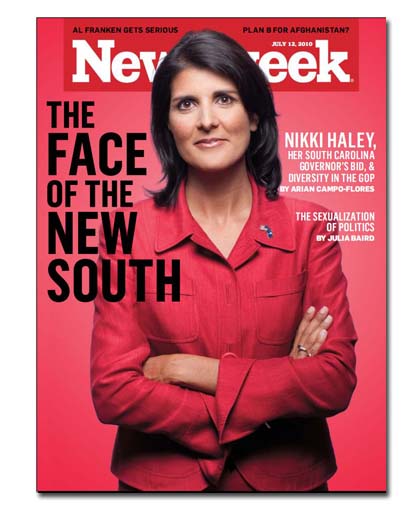 Bids to acquire ailing Newsweek magazine were due at 5 p.m. on July 1. A month later, parent company the Washington Post Co. is still mum on the process and on who might wind up taking the magazine home.
Recent scuttlebutt, however, points to a couple interesting developments. The Wall Street Journal reported today that the Washington Post Co. isn't interested in selling to bidder Avenue Capital Group over concerns with the hedge fund's proposal to partner with National Enquirer publisher American Media Inc. to handle some of the behind-the-scenes operations at Newsweek. (AMI recently struck up a similar deal with Playboy.) The worry among Washington Post Co. brass, according to the report, is that AMI might try to impart some of its "sensationalist" journalism into Newsweek.
The second comes from The New York Times, which is reporting that, according to three people "with knowledge of the bidding process,"  the offer from audio equipment magnate Sydney Harman is pulling ahead as the favorite, especially with Washington Post Co. chairman Donald E. Graham. Under Harman's proposal, the majority of Newsweek's top management and editors would keep their jobs. From the NYT: "One person briefed on the bid said Mr. Harman would retain 250 employees [of Newsweek's current staff of 325] and pay the Post Company $1 in exchange for taking on Newsweek's considerable financial liabilities. Losses at the magazine could approach $70 million this year, this person said."
We all know this type of deal is possible, after OpenGate Capital's October 2008 acquisition of TV Guide from Macrovision for only $1 (in fact, Macrovision loaned the Beverly Hills, California-based investment firm up to $9.5 billion, at 3 percent interest, to help fund the acquisition and get the troubled magazine off its hands). But, as the NYT story points out, Harman's deal is in effect appealing to Graham and the Washington Post Co. because it is undisruptive to the magazine's current operation. It says the management team is worried that another bidder, Fred Drasner—a former partner of Mort Zuckerman who helped negotiate his deals for the Daily News, Atlantic Monthly and Fast Company—would "cut the staff too deeply" and make other changes. (I'm told Drasner wants Newsweek to have top notch reporting and journalism, and to upgrade the digital side, all while finding a market for it so the brand can gain readership and advertising.)
But isn't change exactly what Newsweek needs? For an epic brand that has struggled in print editorially as a newsweekly and is working toward $70 million in losses before the end of the year, maintaining status quo would be a disaster. Perhaps Harman will tap into his millions to eat up those losses and prop up the magazine, but for how long?
Let's not forget that publishing a magazine goes beyond providing a service or being some sort of trophy asset. It's about making money. Newsweek is a business and its model is failing.
I'm not advocating any one deal or bidder over the other. I haven't spoken directly with Harman or Drasner or any other bidder. What I am saying is that the Washington Post Co. should give serious consideration to who might give the magazine the strongest opportunity for future success. Most people don't enjoy laying off longtime, dedicated employees, but finding a new, operable model for Newsweek might be the bigger priority.