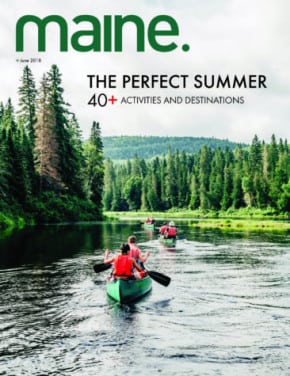 Six weeks removed from the emergence of sexual harassment allegations against former owner and publisher Kevin Thomas, Maine magazine has been sold.
State 23 Media, a group of investors led by Esteem Media founder Adam Japko, announced Wednesday that it has acquired the monthly title and its related assets, including Maine Home + Design and Old Port magazines, from Maine Media Collective, the company co-founded by Thomas in 2006. Terms of the deal were not disclosed.
"We're confident Adam and his team's experience and expertise with national and local media properties will propel our business forward and allow us to continue making a positive impact on the state we love," said publisher and CEO Andrea King, who will remain in the same role at the newly formed State 23.
King said she was "stunned" in late April when former Maine Home + Design art director Jessie Lacey accused Thomas of making unwelcome sexual advances in 2010 and subsequently bullying her into leaving the company.
Lacey's Medium post—as well as an article in local magazine The Bollard in which she and other current and former employees elaborated on what they called a "toxic atmosphere" fostered by Thomas, former editor-in-chief Susan Grisanti (who left the company in 2016), and CFO Jack Leonardi—forced the company to cancel an upcoming event after losing sponsors and elicited both a resignation from Leonardi and a vague and non-committal open letter from King about "maintaining a positive, inclusive, and respectful company culture."
A day later, King released a follow up statement calling the allegations "serious and of great concern" and acknowledging that the company was pursuing a transfer of ownership. Thomas has since apologized for "lines that were crossed," but maintains that any contact with Lacey was consensual.
In the aftermath, 16 current staffers took it upon themselves to defend the company in a letter to the Portland Press Herald that felt an awful lot like an attempt at downplaying the controversy, arguing that "the toxic environment described in recent news accounts does not reflect our current culture," and further claiming that "people who don't know us are publicly demeaning us and threatening anyone who partners with us."
The acquisition announcement from State 23 Media stopped short of directly addressing the circumstances behind the sale, but was careful to note that the new ownership team has "no prior connection to Maine Media Collective."
Apart from Japko—whose Carlisle, Mass.-based Esteem Media has housed New England Home and Atlanta Homes & Lifestyles magazines since they were spun-off from Network Communications, Inc. in 2014—investors in State 23 include local businesspeople Sandy Spaulding and Jill Hinckley; New England Home partners Chris Legg and Gary Mueller; Gerry Parker, the former COO and CFO of Network Communications; former Playbill publisher and Time Inc. veteran Bruce Hallett; and management consultant Karen Weltchek Mueller.
"As publishers of New England Home, we watched the amazing connection and energy these Maine media brands created in their market," said Japko in a statement. "Since 2005 we have been acquiring best in class regional media around the country, so getting this unique opportunity to invest in Maine's local media and business communities made tremendous sense to us."
Speaking to the Bangor Daily News, Japko adds that "all but three" of Maine Media Collective's current staffers will be retained.
---
Editor's note: An earlier version of this story stated that parent company Maine Media Collective had itself been sold. Thomas's ownership of Maine Media Collective continues; only the media brands and their related events were involved in the transaction.