Port City Life Relaunches as Maine

Maine to be 'trendier, more modern' regional.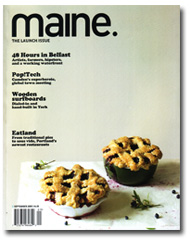 Another title hit the crowded regional space today. Kevin Thomas, publisher of Maine Home & Design, which launched in 2006, partnered with editor Susan Grisanti Kelley to create new regional title Maine.
Maine's September launch will be the result of Thomas and Kelly repositioning Port City Life, a title they acquired this April from lifestyle publisher Laurie Hyndman.
"Port City Life had a Portland focus, so this relaunch give us the opportunity to broaden the scope," Thomas told FOLIO:. Port City Life's last issue was June/July, with Maine retaining a number of former Port City Life staffers.
Other Maine-area regional magazine titles include Down East and Portland.
The 112-page glossy will publish 10 times annually, with issues wrapped with Maine Home & Design's (30,000 circ.) September issue; it will also be sent to the shelter magazine subscribers and former Port City Life (21,000 circ.) subscribers and be available at more than 900 newsstands state-wide. An annual
subscription is $19.95, with newsstand copies priced at
$4.95.
Thomas believes Maine's content is different from any other regional state magazine, and will tell a "fresher, trendier, more modern story."
Despite the current climate, he expects it to take 12 months or less for Maine to be profitable. (Maine Home & Design turned a profit after a year and a half, he said.)
"We learned a number of lessons with Maine Home & Design. To thrive, we need as much community involvement as possible, which includes events and social networking, as well as connecting with people face-to-face." After only three months, Maine has 1,300 Facebook fans and more than 400 Twitter followers. Maine will also kick off its launch with a sold-out "old school magazine party" event for 700-plus guests tonight.
Maine will offer departments dedicated to profiles on Maine businesses, features on unique places or events, extensive calendar listings, style observations and restaurant and lodging reviews.
Where Maine will draw its ad-edit line may be questionable. Thomas told Mainebiz that there will be "more affinity between editorial and advertising" than is customary for print titles. Per its Web site, a full-page ad can run between $1,800 and $2,200.
Meet the Author
---