Magazines Wrestle with Future Business Model

AMC Report: Three executives discuss what publishers need to do to thrive.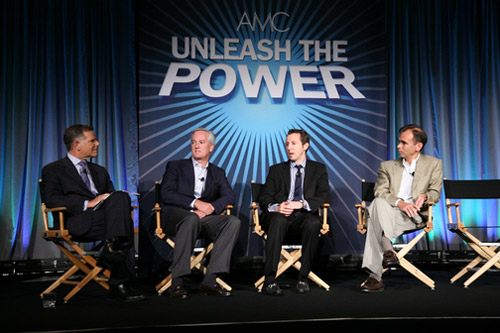 Moderator Jack Myers, Amex Publishing CEO Ed Kelly, IDG CEO Bob Carrigan and Meredith EVP Andy Sareyan (photo: Doug Goodman)
SAN FRANCISCO—The magazine industry can't afford to have a "protectionist" strategy about businesses that are not growing, and instead should manage them for profit and apply resources to growing areas of the business, IDG CEO Bob Carrigan told attendees at the American Magazine Conference here Monday.
In a wide-ranging conversation under the banner "Reshaping the Model for Magazines," Carrigan—who unlike fellow panelists Amex Publishing CEO Ed Kelly and Meredith EVP Andy Sareyan is an executive in b-to-b and in the tech sector—seemed to be more e-centric than either Kelly or Sareyan.
Asked what the ideal revenue mix would be in the next few years, Kelly and Sareyan both said they want to reach a 40 or 50 percent mix between e-media and print. Carrigan said IDG is already there. "We're already in a space, in digital, where the advertising is bigger than print ever was," he said. "We're seeing an expansion in digital. We'll manage print as best we can."
"We'd like 50 percent," Sareyan said. "But ad pages remain very important and they often lead an integrated buy."
But how do you build a business when you're putting in more money than you're getting out? Carrigan said it's about creating programs that drive leads, rather than sell eyeballs. "There's no reason why worldwide magazine brands shouldn't drive very high CPMs," he said. And a strong database is critical for that, he added. "Marketers are willing to pay dearly for qualified leads."
Kelly pointed out that Amex Publishing is owned by American Express—which has one of the largest databases in the world—and is partnered with Time Inc. "I spend a lot of my time trying to tap into that database, and tying into all the things we can do for marketers," he said. "The whole 360-degree approach is an area where we've had a lot of success."
Social networks remain a distinct challenge for publishers. "There are things to generate revenue directly and there is indirect revenue," Carrigan said. "We try to get people to do one more thing on our Web sites and then sell against that."
"We're only dipping toes in the water," Sareyan admitted.
Kelly said: "I'm letting American Express figure it out and share their learnings with us."
Meet the Author
---