Magazines Turning to Games to Boost Page Views

BusinessWeek launches 'Arcade'; NatGeo ups time spent metric with puzzles.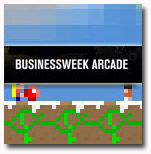 As publishers and online editors continue to look for ways to attract and keep visitors online, some are employing interactive applications like games and puzzles to help increase the time visitors are spending on their Web sites.
Earlier this week, McGraw-Hill's BusinessWeek launched the BusinessWeek Arcade, a collection of 20 independently-developed games that can be downloaded for free on the magazine's Web site. It was launched in conjunction with "Power of Play," a feature story about the changing world of gaming.
"It's frustrating to read about a subject like this one and not be able to interact, to play," BusinessWeek editor-in-chief John Byrne wrote in an e-mail to FOLIO:. "The Arcade is an attempt to give readers contact with a growing world of free, creative, independent games that are having a radical impact on the booming gaming business."
Byrne declined to project how much the Arcade might boost traffic and time spent, calling the initiative an experiment. He said that BusinessWeek will gauge visitor response to decide how frequently to update the games.
National Geographic is another magazine to employ gaming applications online. Last summer, NGM.com managing editor and creative director Rob Covey redesigned the site's "Your Shot" application, which allows visitors to submit photos and play puzzle games based on photos selected by NGM.com editors. Page views rocketed from 140,000 a month to nearly 14 million in January.
In late February, NGM.com launched the companion "My Shot," an application that allows visitors to create their own pages where they can share albums, puzzles and other games based on their photos. NGM.com is developing another user-generated interactive application due to launch in April, Lee says.
"Our visitors are averaging about 15.5 minutes spent on the site," he says. "We were nowhere near that a year ago. We've probably tripled time spent. These types of applications really are what's doing it."
Meet the Author
---