Magazines Talk Video—But Most Still Unable to Monetize It

A report from the MPA's first annual digital video conference.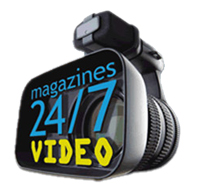 NEW YORK—"What do you call someone who watches video on a magazine Web site?" Nina Link, Magazine Publishers of America, asked a small group of magazine staffers—many responsible for beefing up digital video content on their employer's Web sites—at the Time and Life Building here at the Magazines Publishers of America's first online video conference Tuesday. "Simple—a viewer."
You don't have to look much past YouTube to realize that online video—at least contentwise—is booming. But magazines, said Time Inc. Studios president Paul Speaker, have largely underleveraged their video content, or, at least, the emerging platform. The magazine industry, he said, has the most "underleveraged storytellers on the planet."
"There is no other platform, no other train coming," Speaker said, adding that "brand permission," a term publishers wary of putting resources into video sometimes employ, is "a rearview mirror term—your audience is consuming more and more video every day."
Elusive
But large-scale monetization of Web video is still elusive, the panelists said.
David Hallerman, a senior analyst at eMarketer, a research firm, said marketers spent $925 million on online video advertising in 2007—a small percentage of the $25.9 billion overall ad spend online. But video is the biggest growth area, he said, and will reach $5.5 billion by 2012—or about 10 percent of the total amount of advertising dollars spent on the Internet.
"For a lot of marketers, video is seen as experimental," Hallerman said, noting that the top 100 advertisers spent just 3.1 percent of their total advertising budgets online. "Video may not always something you'll directly make money from, but will help increase traffic and brand awareness."
Eric Gonon, executive producer at BusinessWeek's television unit, said the magazine is placing video next to highest trafficked stories on its Web site, embedding it into pages "where people are already going."
But understanding what video works online is a long process, even for big publishers.
Richard Glosser, "executive director of emerging media" at CondéNet admitted that when the company launched its videos initiatives in 2006, it "wasn't as obvious or as simple as it seemed." Last year he was focused on "putting in the plumbing" necessary to produce high-quality video. "This year, it's about how to scale the business."
'Gold Records'
He said Condé Nast had "a gold record situation" with two of its videos: one, a video of a man stuck in an elevator for 41 hours, got 3.7 million views on the New Yorker's Web site. Video from Vanity Fair's Miley Cyrus cover shoot generated 1.3 million views, but Glosser declined to say how much revenue those "gold records" generated. "We didn't quite monetize them as well as we would've liked." (Glosser added that the company "doesn't presell and then produce" video—evoking the Church and State division—"but we do consult with our ad sales team.")
One problem, Hallerman said, is that "one in three [people] say online video ads are annoying." Another is a precipitous drop-off in viewership in longer-form video.
But that may change, Tammy Haddad, a video producer for Newsweek and member of the 2008 FOLIO: 40, said. More than seven million people watched Obama's speech on race on YouTube—"and that was 37 minutes long." The same week, NBC's Nightly News averaged 8.9 million viewers, she said.
Haddad noted that the controversy surrounding Hillary Clinton's comments about RFK's assassination should've been broken by Time magazine. "She said it to Time already, but it was the [Sioux Falls] Argus Leader that had it on video."
Meet the Author
---