Yesterday was not a good day for Instagram. Users and brands slammed the social network for changing its privacy policy and terms of service to include the following language:
"You agree that a business or other entity may pay us to display your username, likeness, photos (along with any associated metadata), and/or actions you take, in connection with paid or sponsored content or promotions, without any compensation to you."
Several hours after announcing these changes, the Facebook-owned company back peddled, saying in a blog post that it would not go through with that or other actions.
"The language we proposed also raised questions about whether your photos can be part of an advertisement. We do not have plans for anything like this and because of that we're going to remove the language that raised the question," the company's co-founder, Kevin Systrom, said in the post. "It was interpreted by many that we were going to sell your photos to others without any compensation. This is not true and it is our mistake that this language is confusing. To be clear: it is not our intention to sell your photos. We are working on updated language in the terms to make sure this is clear."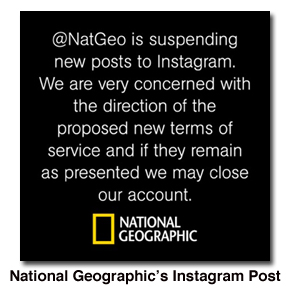 NatGeo's Instagram Account Goes Dark

While Instagram responded quickly, so did some magazine publishers. As of this morning, National Geographic suspended its account by posting the image to the right, which was also sent out to the brand's photographers.
"Last night, we shared on our Instagram feed that we have concerns about the new terms of service," said National Geographic in a statement provided to FOLIO:. "While we appreciate the sentiments in the Instagram blog post from Kevin Systrom, we still need a better understanding of the specific amendments to the proposed new terms of service before determining how best to proceed with our account."
A Conversation About IP Web Rights

Other brands, like Condé Nast's women's title Self, alerted readers to the changes, who had strong reactions.
"Instagram is part of Self's social DNA and it continues to play a major role not only as a means of visual storytelling but as vehicle for conversation with our readers," Stephanie Miller, Self's social media editor, tells FOLIO:. "Given the new terms, 90 of 100 Self Twitter followers told us that they will delete their accounts. When we tweeted '5 Things to Know About Instagram Changes,' over 120 people retweeted the news within five minutes. It was an above average response that demonstrates how passionate and engaged Self readers are within the space. It's unfortunate that we'll potentially lose a robust user base on a quick and easy photo sharing platform—an app that has allowed us to evolve as a brand and spark popular trends such as encouraging readers to show us their #ArmParty and #NailArt."
While Miller did concede that it is necessary to monetize a social platform, and acknowledged Systrom's response, she stopped short of saying Systrom's statement would lead to a fix for Instagram and its users.
"But I've seen it happen before," she said. "Companies simply right-click on photos and sell them as generic images overseas. [This AdWeek article is] another example. I get it. It's monetization. I know how the Internet works, and developments like this are necessary for social start-ups to make money."
Miller adds that while this does leave brands in a tough spot or sticky situation, this is nothing new—the social media editor pointed to another free social platform that gathers data and insight in order to turn a profit: Facebook.
Facebook's terms of service state the following: "For content that is covered by intellectual property rights, like photos and videos (IP content), you specifically give us the following permission, subject to your privacy and application settings: you grant us a non-exclusive, transferable, sub-licensable, royalty-free, worldwide license to use any IP content that you post on or in connection with Facebook (IP License). This IP License ends when you delete your IP content or your account unless your content has been shared with others, and they have not deleted it."
"The whole Instagram uproar is more of a conversation about IP Web rights than it is about a popular photo sharing app," adds Miller. "Privacy in the world of social media is an oxymoron. From the Self brand perspective, we'll adhere to a 'watch and see' approach until we have further counsel from our legal team, but we won't be deleting our account immediately. The sky is not falling. There have been many arguments, for and against the changes, but we still consider Instagram a valuable part of our social strategy."
Stay updated on the latest FOLIO: news, follow us on Facebook & Twitter!