The first quarter is closed and the
results are in for the magazine industry. Step back and you realize that we are
witnessing a conflagration.
From FOLIO::
Ad pages in consumer magazines
dropped 25.9 percent while ad revenue fell 20.2 percent in the first quarter of
2009, according to figures released today by the MPA's Publishers Information
Bureau.

This comes one week after ABM's
Business Information Network reported that ad pages for b-to-b magazines fell
27 percent and revenue dropped 21 percent in January 2009 compared to January
2008.
Percentages can mask the true order
of magnitude of change. Absolute numbers tell a better story—they are the
currency we use to pay the bills, not percentages.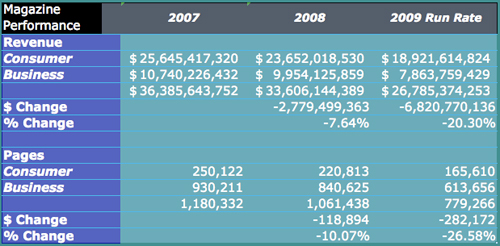 At the current run rate, magazine
revenues will drop $9.5 billion dollars from 2007 to 2009. Ad pages will
decline by 400,000. That means editorial pages will decline by something close
to 500,000.
Astounding.
As I thought about the implications
of these numbers, my attention was caught by a Twitterstream from Laurel
Touby.
I first encountered Laurel seven or
eight years ago at an industry event, where she was prowling about wrapped in a
distinctive boa, pigeonholing anyone that she thought had something useful to
say. If you didn't make the cut, she moved on, abruptly but with a distinctive
intensity that helped you reconcile the sudden shift in direction.
She had founded Mediabistro.
It was originally a "meetup" for media mavens which she built into an energetic
community focused around jobs, career and fun. She eventually sold the business
to Alan Meckler.
I went down to her office to visit
her soon after our first meeting. I wanted to understand what she had done. I
asked questions, we talked, and I was struck at how elegant and simple the core
of her business was. Give people a way to come together and they will do all
kinds of interesting, useful and, if you're resourceful, ultimately profitable
things.
So she's got a big dose of Web cred
with me, and that's why the Twitterstream was so fascinating.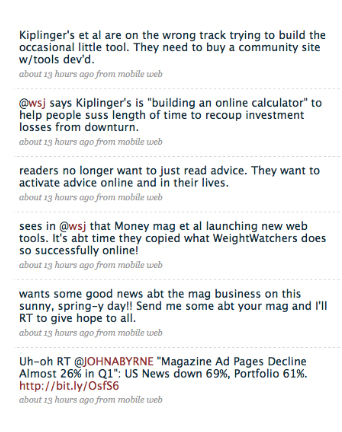 There are a lot of magazine people
on Twitter, and Laurel's call for good news got one response:
Forget it. Brand loyalty (=market power) has officially and
forever shifted from content producers to content indexers.
Her stream of Twitters innocently
captures the sadness and misdirection of the magazine world. Money and
Kiplinger's announce new Web tools and they hardly touch on the kind of
interaction and community that people desire. "[People] want to activate advice
online and in their lives," Laurel says.
When an industry loses $10 billion
of revenue, that almost all comes off the bottom line. And to right itself,
that industry has to make radical changes to its two biggest assets: human
capital and product. The process is wrenching and disruptive.
Look around the blogosphere and the
battle big media is gearing up for is around its content. It's a valiant last
stand at Thermopylae, against the
overwhelming force of Google, the clever stealth of Huffington
Post.
While that battle is grand and
glorious, it doesn't confront the root of the profound change. That change is
captured in the way people are migrating into their social networks online,
creating their own content, interacting with groups of their peers, embracing
diverse communities that organize around each other.
Magazines at their best do two
things. They project authority and create community. Those two things, done
well—and they still can be done well—create powerful environments for
advertisers.
Authority and community have
dissipated into the online world, lost to Google and the social Web.
In the magazine business, our core
DNA tells us that to protect our brand, we need to control our authority and
our community. When we engage our community, we filter and channel. We don't
reflect, we don't mirror and we don't embrace.
There are exceptions, the innovators who have moved their business into more diverse and innovative modes.
We don't have any choice.
That $10 billion of lost revenue isn't going to come back—not when the entire
economy has lost more than $2 trillion. The path to prosperity will be trod
through the current circumstances, as unlikely as it may seem today.  Some
brands will survive.  But it will require reinvention.