Reminder: Magazines Just One Element of the Overall Brand

Departing words from former Ad Age editor Jonah Bloom.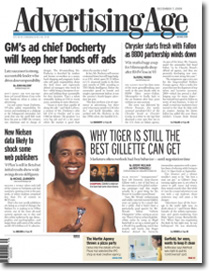 Crain Communications on Thursday announced that Jonah Bloom, longtime editor of trade publication Advertising Age, was leaving the company to serve as CEO and editor-in-chief of budding blogging network Breaking Media—home to Above the Law and Dealbreaker. Following Bloom is Ad Age senior editor Matt Creamer, who will take the executive editor post at Breaking Media.
When I heard the news, I shot Bloom an e-mail to get his take on his departure—what about the opportunity at Breaking Media lured him away from Ad Age. Another question I asked was: Looking back at your time at Ad Age, what are your thoughts about the magazine? The industry?
The first part of Bloom's response was, well, somewhat snippy: Without meaning to sound defensive, Ad Age isn't a magazine. Sure, that's one way in which it delivers weekly analysis—a way that's still valued by many senior executives—but a huge proportion of what it does today it does digitally.
And of course, he's right. Magazines and newspapers, once the center of our publishing universe, now are only one part of the bigger branded experience. This isn't a new concept but it becomes a more solid reality every day.
Coming from an online editor, perhaps I should have rephrased the question, especially when asking the former top editor of a magazine for marketers. Duh, Jason.
Anyway, for those of you who actually were wondering what Bloom's thoughts are on his Ad Age experience and on the industry, here's what he wrote:
I feel proud to have been part of the team that took it from being a newspaper to a genuinely multi-faceted publication. As to the marketing and media business, there's almost too much to say to sum up my thoughts in a sentence or two, but we all know it's going through a massive transition. Marketers are going to keep shifting to more direct, engaging and measurable ways of conversing with their audience and they're going to need to deliver things audiences really want or even need—as I've said before the marketing is going to become a service, and in some ways even a product. The media owners and agencies who are going to succeed will be the ones that help them figure out how best to do that—and how to charge for all their work on that challenge.
Meet the Author
---