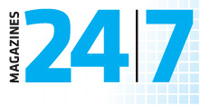 NEW YORK—The most noteworthy—and, perhaps, troubling—moment during the Magazine Publishers of America's fifth annual digital conference, held here Tuesday, came when Slate editor Jacob Weisberg asked three panelists whether or not their print magazines would exist in 10 years, and what percentage of the audience's would.
"We'll be in print," said Geoff Reiss, general manager at Newsweek's digital operation. "I'd say half or more will not."
The rest of the discussions at the daylong event, dubbed Magazines 24/7, were more or less centered around several themes: where magazines have gone wrong on the Web; whether or not magazine publishers have reached a point where they can charge for access to content on the Web; how far magazines can blur the line between advertising and editorial and get away with it; and what the industry must do to survive—both print and online—in a bludgeoning economy.
"We don't really have a choice," said Gary Hoenig, ESPN Publishing general manager and editorial director, when asked if charging for Web content is a viable business option. "If your content is not worth something to customers, as an industry, we're in trouble."
The key, Hoenig said, is to find the price point—like iTunes did with its 99-cents per song downloads—and where consumers are used to paying for it. "If I said ESPN was going to charge for scores, people would laugh," he said. "On their phones, for an extra dollar a month on their carrier, maybe they would."
Hoenig—speaking on a panel entitled "Are Paid Sites the New Black?"—said he could foresee a premium model akin to the parent network's deals with its cable affiliates working for ESPN.com, too. "The model is there for us to follow," he said. Hoenig said ESPN the Magazine is also going to experiment with digital editions, iPhone applications, and "see what happens."
Rodale executive vice president and group publisher MaryAnn Bekkedahl said the company is also experimenting with several premium content models online. She added: "People have been talking for a long time about how the consumer is in control—I think it's time we should take back control, and set the policies."
Publishers Finally Putting Web Ahead of Print
There's been a general resistance in the magazine industry to putting Web development ahead of print. And that, panelists here said, has to change.
"There's been a failure to grasp the idea that journalism should be delivered in a way your audience wants," said Forbes editor Paul Maidment. Reversing the priority, he said, is essential to the industry's' survival.
Other executives admitted the failure of publishers to recognize the paradigm shift—and do something about it—earlier.
"We've successfully completed the first step in a 12 Step program," said Newsweek's Reiss. "We've identified the problem."
Representatives from advertising agencies, however, were less kind.
"The sooner you guys can figure out how to drive what you are doing offline online," said Mediacom managing partner Stacey Deziel, "the quicker you can monetize that."
Domenic Venuto, senior vice president, media and entertainment at Razorfish, agreed. "Your brand's survival depends on how you can adapt in the next 12 to 24 months."