Magazine World Just as Shocked About Russert's Death as Everybody Else

Meacham, others mourn loss of 58-year-old.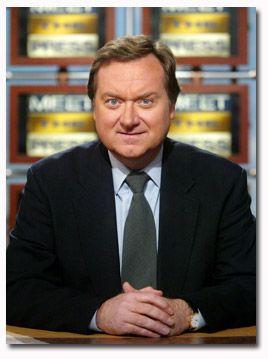 My first thought when I heard that Tim Russert had died Friday
afternoon was, well, not printable. At least not here.
My second, being the editor of a Web site
about magazines, was, "Is there a magazine angle to this?"—which would've been
an excuse to report on the 58-year-old NBC newsman's shocking death, rather
than spend the last three hours in a haze, a slow-moving bubble in which it was
clear no work was going to get done. (Probably didn't help that I was watching
the live MSNBC feed online—and fielding "did you hear about tim russert?
WTF?!?!" instant messages—while trying to finish a magazine piece.)
It turns out there was a magazine angle to Mr. Russert's
passing. A few of them. His wife, for starters, is Maureen Orth, a writer for
Vanity Fair. (She was not responsible, however, for the magazine's recent takedown of
Bill Clinton, although Russert was often criticized for being too tough on Hillary.)
Earlier this year Time magazine named him one of the world's
100 most influential people. And with good reason: he was.
As host of Meet the Press, I don't think it's a stretch to
say he might've been the most widely respected political journalist of his era. Maybe ever, I'm not sure.
Russert was a celebrated interviewer, recognized for his
tough but fair style. Jon Meacham, Newsweek editor and frequent guest on Meet
the Press, pointed out on Friday that Russert "hung people with their own words."
For magazine writers, getting on his show was something of a
rite of passage: "If you could pass the Tim Russert test, you could do
something in this field," Howard Fineman, senior Washington correspondent for
Newsweek, is quoted on MSNBC.com.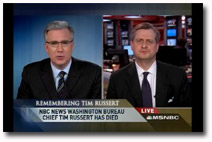 Over the weekend, Meacham wrote a 2,300-word remembrance of Russert,
filled with colorful anecdotes like this one, about Meacham's reluctance to debate
Christopher Hitchens on the show:
I said yes, of course, because if you are in my line of work
you always said yes to Russert. For the record, it was not great, at least for
me. Hitchens was kind, but, as I expected, he had the better of the
conversation. Russert grinned through the whole damn thing.
(Meacham was one of the first to appear on MSNBC Friday to
discuss Russert's death. Click here
to see the video.)
Richard Stengel, Meacham's counterpart at Time, wrote a
profile of Russert in 1984 for Rolling Stone entitled "A Man This Good Is
Hard to Find." Stengel writes now in his Russert
piece on Time.com:
He spent 25 years ribbing me about the headline of that
story, and I didn't even write it. Now I wish I had.
I'm sure there are hundreds of these anecdotes out there.
Because, it seems, Tim Russert touched a lot of people.
One more note: I'm very liberal when it comes to uncensored
comments online. The best criticisms are often anonymous, I get that. But when
someone dies, even a political media figure like Russert, the posting of that
news is not the place for attacks—both personal and ideological. Just not the
time.
Unfortunately, some
readers of the Huffington Post didn't get that memo.
Meet the Author
---