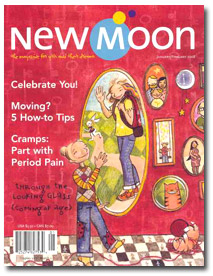 New Moon, the 15-year-old Duluth, Minnesota-based magazine for teenage girls heralded for putting local girls (ages 8 to 14) on its editorial board—and for its advertising-free magazine—is dramatically changing its business strategy to focus on the company's biggest area of growth: the Web.
New Moon Publishing is launching a pair of community-based Web sites over the next two months, for which it plans to charge hefty subscriptions fees to a demographic largely weaned on the free, ad-supported world of the MySpace era.
Meanwhile, New Moon is shifting the target age of its 48-page bimonthly print publication to a younger demographic—8-to-12-year-olds—and in March will launch Orb28.com—for its 13-to-15-year-old audience. The site, like the magazine, will be subscription-based and ad-free. As part of the shift, the company is rebranding itself as New Moon Girl Media.
"It's a big risk," New Moon founder and CEO Nancy Gruver told FOLIO:. She hopes to reach 300,000 paid subscriptions within five years, the vast majority of those online, up from the 30,000 subscriptions the magazine currently boasts. Gruver calls the Orb site a "creative community."
"[The 13-to-15-year-old demographic] are really getting almost all of their media on the Internet," says Gruver. "We are well-positioned because our magazine already relies on user-generated content."
Gruver plans to charge $40 for an annual subscription to Orb28.com and $18 for a subscription to the Luna Vida Club, a companion site for its print publication launching later this month. The cost of an annual subscription to New Moon is $34.95.
So why would a teenage girl who may or may not be smitten with Facebook and MySpace pay $40 to be part of a "creative community"? Because it's ad-free, Gruver says—and safe. "We offer a safe environment that's completely ad free, and we have a lot of confidence in that," Gruver says. "Parents—a certain niche of parents—tell us all the time that that is something they want."
She adds that Orb won't rely on Facebook-style "profiles" common with social networking sites.
New Moon has 16 paid staffers and dozens of unpaid editorial board members—teenage readers that shape its content. According to Gruver, the company operates on thin margins, but is profitable.