Magazine Starts Grassroots Campaign to Free Itself from Advertising

Need's 'Screw the Man, Save the World' project inspired by 'Save Paste.'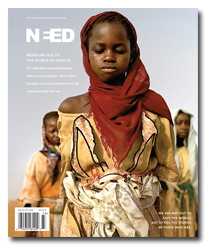 Need, a small, Minneapolis, Minnesota-based "humanitarian" magazine, is struggling with the advertising downturn—just like the "inhumane" ones.
But after hearing about the initial success of the "Save Paste" campaign ('Save Paste' Campaign Raises $166,000) founder Kelly Kinnunen says the magazine decided to launch a campaign of its own—"ScrewTheMan, SaveTheWorld."
"The concept was to not only save ourselves, but at the same time promote our end mission of inspiring humanitarian action," Kinnunen says. "We know it's a bit risky and cheeky but as independent publishers in the current climate you need to be creative."
Need wants 25,000 new subscribers—which would more than double its current circulation of 19,000.
If successful, the quarterly magazine says it "will eliminate all commercial advertising for one year (thus screwing the man) and replace the allocated advertising pages with stories of how readers are involved in saving the world."
Whether or not it works remains to be seen. But at least they got a cool staff video out of it:
Meet the Author
---