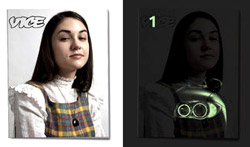 It's not embedded Swarovski crystals or shameless Nike plugs, but Vice—the irreverent free glossy with 14 international editions based in New York—has figured out a new way to sneak an advertiser's product onto its cover: glow-in-the-dark ink.
The magazine's Canadian edition is running an ad for BMW 1 Series—visible only in the dark—on the cover of its latest issue. The ad appears on the magazine's entire print run—some 55,000 copies.
Vice publisher Erik Lavoie wrote in an e-mail to FOLIO: that "there are no plans as yet" to run a similar ad in the U.S. version.
"Maintaining the integrity of our cover—which is not usually for sale—while delivering a unique and rad brand message for BMW was an amazing challenge," Shawn Phelan, director of sales and marketing at Vice's Toronto office, told Strategy, a Canadian marketing magazine, last week.
That's because e glow-in-the-dark ad is a something of a production department nightmare. According to Phelan, the magazine had to print its covers at one plant; ship them to another to add the glow-in-the-dark ink, a UV coat; then back to the original plant for binding.
Vice plans to launch a handful of international editions this year, including Mexico, Brazil, Argentina, Portugal, Bulgaria, Switzerland, Poland and Greece.
For its part, BMW is running an ASME guidelines-pushing cover-wrap on the May issue of Paste, too.