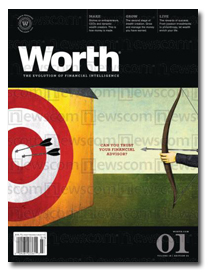 Worth, the
18-year-old financial title that was acquired by Sandow Media last
year,  will relaunch this month with a new look, tagline—and distribution model.
The title will have an "invitation-only readership," and serve a only select
group of high net worth individuals.
Just how high? All
recipients—ages 30 to 65—must have a minimum net worth of $2 million
and, of course, an interest in financial subject matter.
"Most high net worth Americans are rethinking their investment
strategies," CEO Adam I. Sandow, the magazine's new owner, said in a release. "This heightened
interest makes it an excellent time to execute a completely new vision
of Worth."
Worth will be mailed to a high net worth database of 110,000
households in major markets, including Manhattan, Westchester County
(New York), Fairfield County (Connecticut), Boston, Miami, Chicago,
Dallas, Houston, Phoenix-Scottsdale, San Francisco and Los Angeles. After the first issue,
recipients will receive Worth every two months starting in October.
With a guaranteed rate base of 125,000 (up from 103,000), Worth will
also be available on a limited basis at select newsstands with a cover
price of $18.95 and via Sandow Media's exclusive network of 60
newsstands at private airports.
The Worth Web site will launch on June 1 in conjunction with the print publication.
In February, Sandow eliminated roughly 45 percent of the magazine's staff, reducing its headcount from 18 to 8. The company also said it would relocate Worth from New York to Boca Raton, Florida.