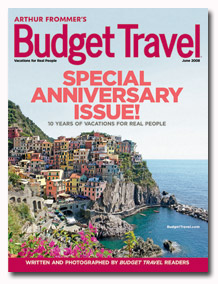 SEE RELATED BLOG POST: Making a User-Generated Issue 'Neither Cheap Nor Easy'
User-generated content has been buzzed about in magazine circles for a few years, but editors—save for a select few—have largely been reluctant to turn over pages from their shrinking folios to readers. Now, a magazine is taking the concept to its extreme: a 100-percent user-generated issue.
For its June issue, Budget Travel has allowed its readers to generate all of the text and photography—only the "40 Best Deals" section was written by staffers.
The magazine solicited some 2,800 pitches from readers, according to editor Erik Torkells. In the end, he says, there were 324 contributors for the issue. A piece called "50 Reasons You Love New York" elicited 500 submissions alone.
"Let's be perfectly clear," Torkells wrote in a blog post for FOLIO:. "Making this issue was neither cheap nor easy."
The magazine paid "normal fees" to its contributors, Torkells says, as well as travel expenses for companions—"something we don't do for professional writers." (Sending a family of four to Hong Kong, Torkells says, blew out the magazine's travel budget, no pun intended.)
And without an "extraordinary amount" of editing, the issue "would've been a mess," he says. "Editing non-professional writers is never easy, especially when you're asking them to write long."
User-Gen X
The concept of a user-generated magazine is not new. In fact, it's already been done in the travel category. 8020 Publishing's Everywhere magazine—comprised entirely of user-generated content—was launched in 2007 after 8020's successful launch JPG, a magazine is comprised entirely of submitted photography.
It's a nod, Torkells says, to one of the major changes to have affected travel industry in the past 10 years—namely, that consumers are turning to each other as much as to so-called experts. "You still need editors," Torkells says of Everywhere, adding that there's a "broad, service element" to Budget Travel's issue that Everywhere doesn't have.
Larger magazines have dabbled in user-gen, too. Wired has experimented with user-generated content in the magazine and on special covers; Dennis Publishing recently announced that its Bizarre magazine in the U.K. would relaunch with a direct focus on user-generated content; and magazines such as Time and Esquire have devoted feedback-style sections to content generated on their Web sites.
Torkells says he plans to do another user-generated Budget Travel issue in 2009. "In the future," Torkells says, "love it or hate it, an editor's role will be to lead a conversation, not deliver a monologue."