Magazine Publishers & The iPad: An Unrequited Love

Apple hasn't promoted the tablet computer in MPA member magazines since 2011.
If this were a bad teen movie, the magazine publishing industry would not be (surprisingly) playing the glamorous cheerleader, but Apple would still be the big man on campus.
It seems that the industry has a case of unrequited love with Apple, at least according to recent findings from research firm MagazineRadar.
Apple hasn't advertised the iPad in an MPA member magazine since July 2011. Last summer, Apple made a brief appearance within the industry's pages, with the latest iPad campaign in magazines appearing from May-July 2011. During that time there were 21 ad pages placed strategically among 21 MPA monthly magazines, all with the same creative.
Apple did also place 18 back page cover ads in 9 MPA weekly and bi-weekly magazines during the same period. The seeming coolness from Apple doesn't stop in print—the company has not advertised the iPad on MPA magazine websites at all in 2012.
Why would they? Magazine publishers have been doting over the product and Apple not only with each other at industry events, or to media journalists like this reporter, but they have, essentially, been running ads for them.
Magazines (trade or otherwise) are not just writing about the iPad, says MagazineRadar, but they are showing it off—in 2012, about 32 percent of all edit credits, which the research firm considers a "single mention or image of a brand in a magazine's editorial," appeared as images rather than text.
Apple's apparent lack of enthusiasm for magazine advertising extends beyond the iPad, too. From September 2011 to August 2012 there were 216 ads for the iPhone placed in 200 MPA magazines. In comparison, the iPad received 1,847 edit credits so far in 2012. Additionally, Apple dominates other technology brands when it comes to editorial mentions (see below).
Apple is likely undertaking a strong advertising campaign for its new addition—the iPhone 5. Whether or not they pay attention to the adoring magazine industry remains to be seen. MagazineRadar, however, says one thing is certain: publications will continue writing about Apple and its products.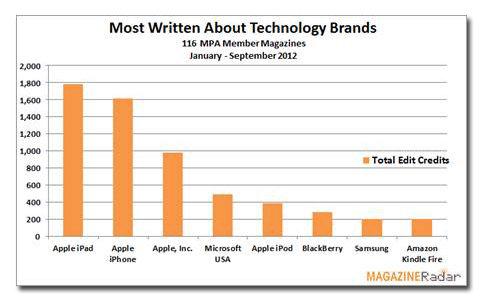 T.J. Raphael is a FOLIO: magazine Associate Editor. Follow her on Twitter: @TJRaphael1.
Meet the Author
---