Magazine Prints Issue on Wheat Paper

Canadian title says initiative offers farmers more revenue, cuts pulp demands.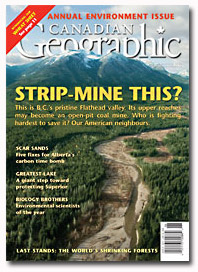 Canadian Geographic reportedly has become the first North American magazine to be printed on paper made from wheat.
The magazine—which last fall increased its frequency to 10 times per year—says it is printing its annual environment issue on sheets made using wheat straw. "It's our message to magazine publishers and pulp-producers alike, that adding agricultural waste to pulp mix can offer farmers a new source of revenue and cut down on the demand of pulp from our boreal forests," the magazine says on its Web site.
While the Magazine Publishers of America "is not familiar" with this initiative, a spokesperson called printing a magazine on paper made from wheat "very interesting."
Canadian Geographic is published by the Royal Canadian Geographic Society.
Meet the Author
---