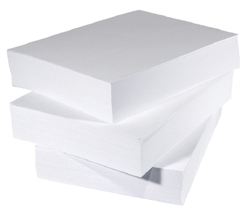 While 2008 and 2009 saw a significant drop in paper pricing, there are a lot of underlying factors that could reverse the trend in 2010, including paper manufacturers decreasing their production, changes to the tax credits the paper industry receives and the rising demand for paper as the economy improves.
"There was a huge falloff in [paper] demand in early 2009, which bottomed out in March," John Maine, VP, world graphic papers, RISI Inc., tells FOLIO:. "A lot of publishers cut back on their inventory. It was down almost 40 percent year-over-year. But within the past eight months, there has been significant recovery and finally, as of November, the demand started showing year-over-year gains."
Maine says that although the increase in demand will continue this year, it's being compared to weak, year-low levels. "Magazines and catalogs are still suffering and they're not expected to grow in 2010," he says.
In addition, the mills are now hurting from the loss of tax benefits (via the "Alternative Fuel Tax Credit" program), which ended on December 31 of last year.
Publishers will start to see an increase in paper prices around the third and fourth quarters, according to Maine, even though the market is still oversupplied. He adds that 2011 could be a year of paper price recovery if 2010 goes as expected and mills begin closing, thus sparking a rise in prices.
What Publishers Can Do
Publishers should budget for a 5-10 percent increase in printing costs over the course of this year, according to Terry Choate, Jr. of Choate Special Interest Publications Group, which helps special interest and trade publishers negotiate paper and distribution costs. The timing, of course, couldn't be worse. But there are a few ways to keep costs from getting out of hand, including reducing trim size, decreasing the number of pages printed, printing fewer copies and changing paper stock.
Some publishers have turned to each other in order to save money. Time Inc. and Meredith—two of the largest consumer publishers in the U.S.—issued joint requests for proposals to potential paper suppliers late last year, according to several sources (Meredith reported a 15 percent drop in paper costs in the second quarter of fiscal 2010).
In addition, American Business Media recently partnered with The Integrated Media Cooperative, a purchasing co-op for small publishers, to offer its members entry into the co-op in order to take advantage of lower paper prices than they could find on their own.
"By bringing in more purchasers, we get better pricing," IMC president/CEO Bill Walker tells FOLIO:. "We work with a merchant instead of directly with the mills because the publishers would have to hire a paper manager. Our merchant does 99 percent of the work, so the publishers don't have to hire someone on their own."
The co-op, however, hasn't gotten to the point where the publishers are buying enough of the same paper. "Our publishers all use different kinds of paper," Walker says. "And some mills only make the types of paper that are within their best interests. Therefore, we can't just buy from one mill, we have to buy from a few of them."
Tom Fogarty, director of production at Vance Publishing, is very familiar with IMC having worked with them while at Ascend Media and now at Vance. "It's hard to say how much money we're saving at Vance right now because the company was already an IMC member before I was hired," he says, "But the savings at Ascend  was in the six figures."
The merchant that Vance has chosen via the co-op, Fogarty says, offers top-notch inventory tracking and forecasting, which saves the company money, and because the co-op works with multiple merchants at once, the options are wider and the task of buying the paper is easier. "I never have to look at the paper, get a paper sample or a price quotation on anything," he says. "Everything that the merchant promises me comes through. It's good to have someone looking out for us."
Potential buyers are in a good position to gain more attractive prices if they plan ahead, according to Maine. "Some printers are offering six-month, fixed rate prices for the first-half of the year," Fogarty says. "So it might be a good idea to negotiate for a longer term, fixed rate price contract. This is the bottom of the price cycle, so it would be advantageous to try and lock in those prices now. Avoid buying in the peak season, which is around September and October, when prices will be higher."
Keep an eye on the marketplace. "If publishers have been using the same printer for a long time, they may find that their printer might be quick to raise prices, but not to lower them when the market goes down," Choate says. "Do your research and make sure that they're staying on top of paper pricing."