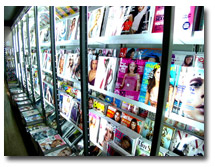 ABC's twice-annual FAS-FAX report detailing analyzed paid and non-paid circulation for just over 700 U.S. consumer magazines was released earlier this week, and the numbers tell an interesting story. Newsstand revenues rose in the second half of 2007 by 2.8 percent to nearly $1.7 billion. This, of course, is good news for the industry. However, the bad news is unit sales declined 1.8 percent, to slightly less than 472 million (this data is subject to revision when the final audit bureau data is provided later this month).
The spread between unit sales and revenue performance is one of the largest in recent years. It apparently reflects the beginnings of a strong cover price increase trend. Besides pricing there were also other factors that contributed to the mixed sales story in the second half of 2007.
Cover Price Effect
The estimated average industry price rose from $3.36 to $3.52 in the second half of last year. This is probably the largest average price increase in industry history. The price increases were led by Bauer, who last fall announced price increases on its nine audited titles of approximately 30 percent. However, its price increases only affected sales the last two months of the period. Even so, Bauer's aggregate revenue increased 11.3 percent based on unit sales. It's much too early to proclaim their price increase strategy a success, but it is an impressive start.
Bauer wasn't the only publisher pushing prices higher. The average price of titles sold at checkout increased from $2.96 to $3.14 (up 6.1 percent) and mainline titles (primarily male oriented) increased their average price from $4.67 to $4.79 (up 2.6%). But newsstand pricing is far from being fully elastic. The sales performance of TV Guide (price $2.16 to $2.66, unit sales down 26 percent), Newsweek (price $4.50 to $4.95, unit sales down 12.7 percent), and Time (price $4.22 to $4.95 unit sales down 16.5 percent) helps demonstrate the market resistance to price increases. On the other side of the coin In Touch increased price from $1.99 to $2.29 and unit sales increased 4 percent. The lesson here is that cover price increase decisions should always be approached with caution.
Impact of Wholesaler Distribution Reductions
Much has been written recently about wholesaler mandated distribution reductions. It's difficult to assess its impact from audit bureau data. But there are some indications they might be having a slightly adverse impact on unit sales—estimated to be about a half of one percentage point. If the industry efficiency level has been raised from 33 percent to 38 percent, as some wholesalers have indicated, a half point sales reduction would represent a big win for publishers, as well as wholesalers.
Celebrity Title Performance
In the second half of last year the celebrity titles continued to set the sales standard for the industry. These six titles—People, US, In Touch, Star, Life & Style and Ok! (which represent 27 percent of industry sales revenue)—experienced a rise in unit sales of .8 percent, and revenue gained 11.4 percent. In Touch and US, as well as Ok!, were the only titles in this group to show both unit and revenue gains.
The Dollar Tree Phenomenon
Meredith reported in the second half of 2007 that the sales of their four leading newsstand titles—BH&G, Fitness, Ladies Home Journal and Family Circle—had a staggering combined 31 percent increase in sales revenue. This was a highly unusual sales lift for mature titles. As it turned out it appears that nearly all of the increase ($8.6 million) from these four Meredith publications can be accounted for by sales through Dollar Tree stores. But there was a backlash from major chain retailers about selling product at deeply discounted prices. Meredith in the last few days has indicated they have discontinued their Dollar Tree distributions. It seems as if Meredith's Dollar Tree sales lift will be a non-repeating anomaly that can best serve as a cautionary tale concerning the risk of the selling leading titles at deeply discounted rates.

Newly Audited Publications
There were three major titles added to the auditing ranks in the second half of last year. Two published by Time, Inc.—People Stylewatch and All You (both monthly frequency). The other, Quick & Simple, is a weekly title published by Hearst. People Stylewatch and Quick & Simple reported revenue of nearly $11 million and All You a little less than $6 million. Of the three, perhaps, the sales of People Stylewatch is the most impressive. It reported average sales of 549,000 per issue. Its sales revenue exceeded those of Vanity Fair, Vogue and Good Housekeeping. It is believed to be the largest revenue achieved, at launch, by a monthly title since the super sized debut of O, the Oprah Magazine in 2000. Quick & Simple, with an average price of only $1.63, and All You (cover price $1.97) reported good sales, but the sales of these titles might be compromised in the future if the industry continues to shift away from super low cover priced products.
Mixed Messages
The mixed sales performance in the second half of 2007 mirrors the complexity of the market conditions. Price, we're reminded, is a double-edged sword. It appears as if price increases will be accepted in certain circumstances, especially when increases involve titles previously priced below $2.99, but meet resistance in others. The wholesaler initiated distribution reductions are still a work in progress, but the initial results appear to be promising. Finally, we learned that the market can be self policing when it comes to selling magazines at deeply discounted prices. As always, the newsstand retains its mysterious aura to both delight and confound.
[Note: At the time of posting, some figures in this story were miscalculated. They have since been corrected.]