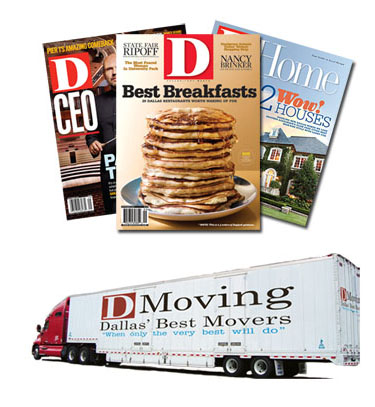 What would you do if you saw a truck driving down the road with your magazine's logo slapped on the side of it? Maybe think your publishing company is trying its hand at distribution and you didn't know about it?
In the case of Dallas, Texas-based D magazine, its owners are taking legal action.
D founder Wick Allison, who in turn owns D Magazine Partners LP, is suing Allen, Texas-based moving company D Moving for trademark infringement. The magazine claims the company's logo—a white 'D' in a red box—is confusingly similar to its own and is being used without permission.
And according to D magazine's executive editor Tim Rogers, this isn't the first time D Moving owner Edwin Bedford has landed himself in trademark trouble. He says Bedford was sued for trademark infringement by Major League Baseball because previously he ran a moving service called Major League Moving. A judgment was handed in that case barring Bedford to use "Major League" in his company's name.
You know, since I was a kid I've wanted to open my own high-end restaurant and call it Vogue Café. Hm. Maybe I should think twice about that…