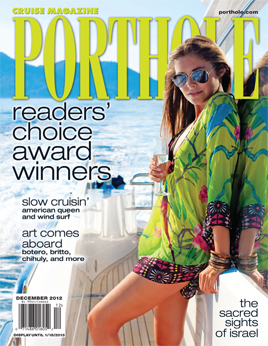 THE PATIENT: Porthole Cruise Magazine
AGE: 20 years
VITALS: Dangerously erratic pulse
PROGNOSIS: Bleak
We were going to begin by revealing that the dirty little secret of travel magazines is their disturbingly cozy relationship with the travel industry, which shreds their credibility. Except that everyone has pretty much already figured that out, right? With some notable exceptions—Condé Nast Traveler's "Truth in Travel" tagline is both brilliant and, to its credit, editorially defensible—most books in this category are heavily dependent on junkets and gimmes. Without them, the business model doesn't work.
Enter Porthole Cruise Magazine, which was born as an industry trade, then converted three years later into a slick consumer bimonthly. The Medic knows this to be a bold, tricky procedure. Porthole nominally carried it off. The patient survived. But what's its quality of life these days?
As always, we begin by asking ourselves if there's a compelling reason for a reader or advertiser to choose this magazine over others in the segment. (Answer: No.)  More particularly:  Is it a bright read? (No.) Stunning to look at? (No.) More informative than competitors in print or online? (No.) Does it take cruise acolytes to inside sources unavailable elsewhere? (Not really.) This, then, is a tough sell. To mix medical and sailing metaphors, our patient is throwing an embolism while adrift in storm-tossed seas.
What We Prescribe
• The most unifying visual element in Porthole is also its most nauseating: Heds that run sideways or lean precipitously. We suppose this is intended to subliminally mimic the movement of ocean waves. Instead, it makes us seasick, and it just plain defies readability.  Stop this now.
• The book opens with a clean, Simple Living-esque TOC.  Off to a good start. But turn another page and all heck breaks loose. The FOB is an inartful cut-and-paste assemblage. Features are feeble and confusing. And where's something we can identify as a delightful BOB bit? This magazine needs a neat division of sections, headlines that entice ("Show Us Your Porthole"—in a family mag?), some sense of cadence and, undergirding it all, a sharp editorial mission statement.  
• Why does this magazine's logo read Cruise Magazine Porthole? If you can't get your own name right on the front cover, what are customers to think about the content inside?
• If you do nothing else, hire writers whose opinion of typically preposterous travel promo literature can be summed up in one word: Contempt.    
Medic's Note
We see mostly churning circ and rough seas for this highly compromised patient.
A well-known reporter, writer and editor—at Time Inc., Primedia and other American  publishing companies—Cable Neuhaus has frequently been called on to help create, repair and run consumer and trade titles of various kinds.