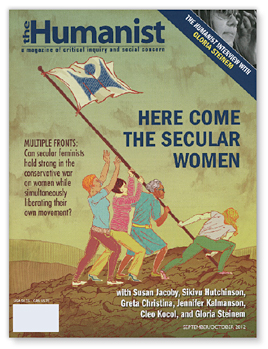 THE PATIENT: The Humanist
AGE: 71 years
VITALS: Weak
PROGNOSIS: Stasis
We imagine our patient as a candidate for a blind date. The other party asks, "Is she pretty?"  
"Well, uh, not exactly," we answer.
"Then she must have a winning personality, right?"
We try to be delicate, but instead blurt out the ugly truth: "Actually, she has almost no personality at all."
We're not happy about any of this, and neither, we suppose, are the magazine's readers and advertisers. At a time when the United States is experiencing an unprecedented secularist/atheist revival, The Humanist, which should literally own this territory, has totally failed to make a move.
Any number of writers (among them: Christopher Hitchens and Richard Dawkins) have lately delivered much buzzed-about books concerning life without God. Inexplicably, The Humanist, by refusing to step up its game, has missed its golden opportunity. Meanwhile, other titles (see Empirical, for example) have edged into this space.
Is it too late for this book? Probably not. What is needed is an unambiguous directive from its publisher, the American Humanist Association. The Humanist can still be resculpted into a life-like magazine. It simply must utilize the skills of modern magazine-making, none of which are currently on display.
What We Prescribe
• Major cosmetic surgery. The current inchoate design, including all typography and the logo, hearkens back to a long-ago era. This cannot be the contemporary presentation that forward-thinking humanists strive for.
• Develop sections and bits that are proprietary: Lists, charts, smart graphics, useful sidebars. The editors must create a true magazine, not merely a collection of essays (usually very good ones, incidentally) and book reviews that are collated and stapled together. This is a thoughtful, intelligent magazine that, happily, works best in print; so, take advantage of the medium. A magazine for humanists needs to read less like a dusty bible and more like, say, Psychology Today, which handles the big questions of existence with style and imagination.
• If you're on newsstands, as The Humanist is, then think like a newsstand title. Promote your best pieces. A recent issue of The Humanist featured a provocative take on sex addiction—but barely noted it on the front cover. Instead, the cover showcased a full-bleed brown-ish snapshot of an author no one would recognize. Are you kidding?
Medic's Note
One needn't believe in God, but it's truly a shame not to believe in the fine art of magazine-making.
A well-known reporter, writer and editor—at Time Inc., Primedia and other American  publishing companies—Cable Neuhaus has frequently been called on to help create, repair and run consumer and trade titles of various kinds.