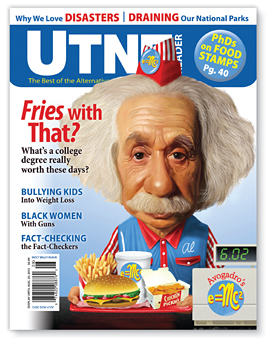 THE PATIENT: Utne Reader
AGE: 28 years
VITALS: Very weak
PROGNOSIS: Life-support efforts may prove ineffective
My, how we hate to see a patient so bloodied and fragile, so unlike the lithe little scrapper it once was. Utne Reader, which back in the mid-Nineties was selling 300,000 copies per issue, has been on a long, ugly slide. Today, its circulation is down to a barely detectable 45,000. It's finally arrived at the point where one must confront the difficult question: Are life-ending measures in order? The magazine is currently receiving palliative care from three editorial staffers in Topeka, Kansas, who mean it well.
Before anyone administers last rites, Utne deserves one more chance. After all, this magazine has long served its brainy, mostly liberal-leaning audience with stamina and enormous respect.
As a magazine that launched a decade before the advent of the Web, Utne's sole purpose was to reprint the finest journalism from the country's alternative press. It was a virtuous and somewhat successful undertaking.
Utne's new editor, Christian Williams, tells us he thinks the magazine "is more important now than ever" precisely because of the Web, which he says can overwhelm readers. We don't agree. We're also not onboard with Williams' recent decision to have Utne's staff "weigh in more" with original pieces.
What We Prescribe
• Forget about a slavish devotion to the "alternative press." Utne lately has reprinted stories from The Atlantic, New York, and The Nation. How are those "alternative?" Ignore literary journals as well. Instead, focus on the obscure periodicals readers will never find at their local magazine stand.
• Stop trying to attract readers with provocative covers. Use that prime space instead for your table of contents, in whole or in part, in the style that once served as the signature of the old Reader's Digest. In other words, be authentic to your edit charter, which is simply to provide curated content, smartly edited.
• Set aside a sizeable block in every issue for story summaries, in agate type, organized by category: Environment, Space, Food, Medicine, and so on. We'd say 60-70 words per capsule, with links to the original content. Catalog-like. Here and there, reproduce thumbnails of opening spreads as they originally appeared.
• We cannot think of a magazine less in need of such lovely paper and binding. Why bother? Ditch the good stock and replace it with something pulpy. Saddle-stitch it all together.
Medic's Note
Allow it a year. If its health doesn't improve, lay this book to rest and go Web-only.
A well-known reporter, writer, and editor—at Time Inc., Primedia and other American  publishing companies—Cable Neuhaus has frequently been called on to help create, repair and run consumer and trade titles of various kinds.