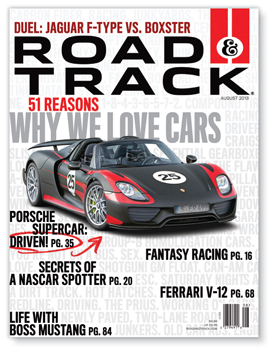 AGE: 66 years
VITALS: Good post-op pulse
PROGNOSIS: Gradual improvement
Recently, the online investment newsletter 24/7 Wall St. grimly predicted that Road & Track was so deathly ill that it could not survive another year.
True, R&T has pretty much been run over by competitors in the automotive category. With barely half the circ (604,000) of fellow Hearst Magazines monthly Car and Driver—well, one can understand apprehensions about R&T's future as a stand-alone brand.
But the bigs in New York's Hearst Tower swear that our patient, though t-boned by a heartless market, is now on the mend. When it was acquired from Hachette a couple of years ago, everyone at Hearst could see that R&T needed more than a simple nip-tuck. The fix would require the equivalent of a complex multi-organ transplant. No one need wait on the expertise of the Magazine Medic for that insight.
In the immediate aftermath of its surgery, completed just a few months ago, R&T was barely recognizable, so radical was the transformation. There was a palpable Euro-lushness to it; in both its look and language, it had become…car-porn sexy.
There's clearly a lot of Esquire's mazy DNA in the post-op R&T—no surprise, as Esky too is owned by Hearst.  In sum, R&T redux is less focused on gears and torque, more on (high-end) gear and travel.
Not everyone immediately took to the changes. "Some long-time readers were in shock," says Larry Webster, the new editor of R&T. "But they are beginning to come around."
What We Prescribe
• We're in favor of product differentiation, but sometimes you've got to deliver what long-time readers have come to expect. In this case, we mean pictures of car interiors.  There aren't enough of those anymore. Bring them back.       
• "Go Lutz Yourself," the featured back-page column by onetime auto industry hotshot Bob Lutz, is too weird by a third. When Bob ventures off into topics as far afield as male grooming, we think it's time for him to be reined in.
• Expand the overly compressed "N.V.H." (i.e., Navigation, Vibration, Harshness) section up front.  It's the one place in the magazine that reads like inside-industry dirt, and in the age of a million unreliable blogs, everyone wants dirt from a trusted source.
• "The Boot" is a handy catch-all section in back, but like most car trunks, it's far too messy. We're not sure what we're going to find in there, and into what corner it has been tucked. This needs clearer organization.   
Medic's Note
Jim Meigs, head of the Men's Enthusiast Group at Hearst, says, "We're doubling down on the 'lifestyle' mission."  In our view, that prescription seems just about right.

A well-known reporter, writer and editor—at Time Inc., Primedia and other American publishing companies—Cable Neuhaus has frequently been called on to help create, repair and run consumer and trade titles of various kinds.