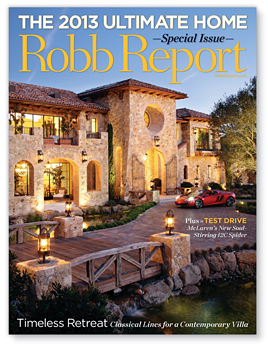 THE PATIENT: Robb Report
AGE: 37 years
VITALS: Steady
PROGNOSIS: Sclerotic tissue
It's an article of faith that the well-heeled among us live longer, in part because they can afford the best health care. The same, it might be said, is true of magazines. Those that insist on regular checkups at the hands of savvy practitioners will likely do better over time.
To its credit, Robb Report—venerated for the way it caters to the endless wants of ultra-wealthy sybarites—appears over the years to have placed considerable value on its health. We'd stipulate that today's Robb Report is generally a handsomely produced and tightly edited magazine.  
Moreover, it's staked to a publishing formula that makes the Medic's pulse race. The writing is inexpensive to generate, most of the photography is provided without charge, and the top staffers get to (indeed need to) live large in order to relate to their readers—all in the mission of connecting luxe advertisers to the moneyed class.
However—and this is critical—there's hardly a magazine alive that should go more than several years without a head-to-toe refresh. Robb Report is visibly past due.
What We Prescribe
• Robb Report could win points by being less predictable. Every issue is a too-perfect template for the one that follows. Orderliness can be a virtue, and we imagine Robb Report's fussy readers salivate over all the regularly scheduled "special issues" on the finest rides, homes, timepieces, and so on. But we believe that great magazines must occasionally deliver what is not expected.      
• You can shuffle almost any of the magazine's covers and no one would notice. There's a beautiful, but numbing, sameness to them. We'd say create some cover art that's avant garde, or otherwise more daring—if only to break the monotony.
• In addition to celebrating those things that inhabit the dreams of the privileged few, it would be a tremendous service if the editors pointed to a much-ballyhooed trinket and reported, "We have examined this, and frankly the reality just does not own up to the hype." Try it now and then, in the interest of a stronger bond with readers.
• The front of the book is too blatantly like a product catalog. (We're not entirely deluding ourselves; in some ways this magazine is intended to be a glorified catalog.) You don't need to go all Vanity Fair slick. Just allow someone in there with a bag of revitalizing meds. Robb Report looks enervated.        
Medic's Note
Sure, there's plenty of splashy new digital competition in this space. But for high-net-worthers, stacking Robb Reports in their yachts' guest cabins is its own reward. Therefore the editors needn't lose any sleep (yet), but they should pick up their game regardless.
A well-known reporter, writer and editor—at Time Inc., Primedia and other American  publishing companies—Cable Neuhaus has frequently been called on to help create, repair and run consumer and trade titles of various kinds.