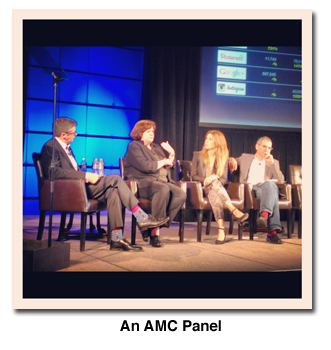 SAN FRANCISCO—Mary Berner, the new CEO of MPA, set a feisty tone for the 2012 AMC right from the start. "I'm pissed because we have others hijacking our narrative," Berner said in opening remarks here Monday morning. "By letting others hijack our story, it has become one of doom and gloom, demise and even death. And that conversation is affecting our business."
Instead, Berner said, the magazine industry is well positioned to thrive, if it has the "balls and the chutzpah" to prevail. Changing the conversation, she said, "has to be faster, louder and with one strong freakin' voice."
Berner took the audience of 200-plus attendees through a quiz in which each multiple-choice question had one answer that told a negative gloom-and-doom story, and another that had the often much-happier reality.
For example, total magazine-audience numbers have increased by 4 percent since 2010, and there has been a 57 percent spike in the number of brands advertising on magazine media platforms (tablet, online and print) since 2010.
Paul Bascobert, president of Bloomberg Businessweek and conference chairman, also helped set the stage for the conference in opening remarks. "We're competing in an attention economy—building an audience has never been more difficult," he said. He added that while difficult, it is not impossible, especially given the expansion of media and the strength and quality of magazine brands.
In one sense, Berner's message and Bascobert's was standard fare at the annual conference of large consumer-magazine companies. Berner's message has been heard before—if not as strongly stated—many times, over the last decade, even as digital media has continued to transform the landscape.
Still, the ability to use strong brands to prevail in a changing world was a key takeaway of the majority of the first day of AMC. The focus was on digital assets—tablets, mobile, online, social and otherwise—and how these platforms will play an integral part in publishing's future health and growth.
The ability to distribute magazine content and expand brands is an enormous opportunity in the digital space, Next Issue Media CEO Morgan Guenther told the audience. And with 2.5 billion global Internet connections, 5 billion mobile devices, 30-billion App Store downloads and 25 billion with Google Play, that's a core of the Next Issue business plan, he said.
"What else can we do to add value?" asked Karen Kovacs, publisher of People magazine in a morning session. The publication's readers spend $100 a year for a subscription to the printed product. Yet, with proliferation of new avenues, Kovacs emphasized that publishers should be providing paying customers with several touch-points that extend beyond the magazine, and that can also drive revenue.
People will roll out a new customizable mobile app in November that will give users to access specific content about their favorite celebrities, allowing the brand to also bring in advertisers in an integrated way. Similarly, Food & Wine magazine vice president and publisher Christina Grdovic, who sat on the same panel, said the publication had executed a editorially-driven cocktail recipe app that was sponsored by Belvedere. In this way, the company leveraged digital media, integrated an advertiser to drive revenue and extended its brand presence.
"We have the opportunity to reach 200 million consumers through new platforms," said Kovacs.
Enthusiast publisher Source Interlink Media is turning its eye to video—it now has a 45-person production crew and is focusing on entertainment-based streaming content.
"YouTube has allowed us to dive into episodic content and it's evolving to be able to provide a lot of advertising content," said Chris Argentieri, president of Source Interlink Media. Source in the digital age will be "truly a diversified media company from a revenue standpoint," he added.
Digital opportunities can also come in the form of in-the-moment offers, said Russ Grandinetti, vice president of Kindle Content for Amazon. The late Vanity Fair writer Christopher Hitchens, for example, released a 15,000-word Kindle Single article on the death of Osama Bin Laden shortly after Bin Laden's death. This type of long-form journalism, which is easier consumed on a tablet than a desktop or laptop Web browser, was readily available before the magazine went to print, and easily monetized in a topical and timely way.
"The best way to predict the future is to invent it," said Grandinetti. "You're only going to be constrained by how good your ideas are."
Timely interaction—through instant content updates or social media—will also help the magazine industry grow, Joel Lunenfeld, vice president of Global Brand Strategy for Twitter told the audience during a luncheon interview with Wired senior editor Bill Wasik.
"There is an incorrect use of Twitter," Lunenfeld said. "Using it as a broadcast platform is the wrong way to use Twitter—as just a one way dialogue. When you look at the best magazines on Twitter, they re-tweet and reply. A follower is a subscriber."
Lunenfeld added that Twitter does not have an algorithm that stops content from going to a person's feed—that means if someone follows a magazine, they can see everything the publication pushes out, opening the door for heightened click-through rates and exposure.
On average, a magazine's Twitter following represents 14 percent of its circulation. However, the top 50 magazines by circulation usually have 150 percent more followers, said Lunefeld.
"Twitter extends what editorial means," Lunenfeld said. "Maybe it's a poll or a question with a chat. It's also leveraging expertise to give real time advice—the minute that people start talking to audiences it's an 'Ah ha' moment," where users feel appreciated and welcomed by a brand, he said.
Perhaps the largest takeaway from the first day of AMC came in the form of a question from Ethan Grey, vice president of Digital for the MPA. He asked Pamela Maffei McCarthy, deputy editor of the New Yorker, "What is a magazine?"
"There is a core that goes across all titles and all times," she said. "It's a critical mass of writing and pictures, very often subject specific, with a voice. There was a time we assembled it all in one place and in one time. But now there are a dozen ways and it's 24/7. We used to welcome readers to our world, now it's to our universe where all sorts of things are going on."
Stay updated on the latest FOLIO: news, follow us on Facebook & Twitter!