Magazine M&A: Waiting to Rise from the Dead

Will the market start to bounce back in the second half?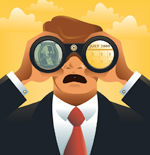 There were 129 Media Transactions in the first quarter of 2009, down 36 percent from the first quarter of 2008, according to media banker the Jordan, Edmiston Group. Deal values, meanwhile, plummeted 91 percent to a combined $1.3 billion.
The second quarter didn't fare much better, JEGI managing director Scott Peters says, as many of the deals that got done were "heavily weighted toward distressed situations."
"Market valuations have been under pressure due to the lack of debt capital and a general perception of the M&A market as being a 'buyer's market,'" he says.
In December, London-based Reed Elsevier called off its 10-month-long auction of its b-to-b publishing arm Reed Business Information—a sale process that arguably evolved into a bellwether for media deals in a brutal economy. Other big magazine deals, like ABRY Partner's sale of Cygnus Business Media, hung in the balance (now, Cygnus' senior lender, GE Commercial Finance, is said to be working out the details of a debt-for-equity exchange with its other lenders which would transfer formal equity control of the publisher to GE). In June, b-to-b publisher Ascend Media, once a $150 million company, went on the block. Some observers say it could fetch as little as $20 million.
It's a shocking turn for an industry that saw record M&A spending in recent years, thanks to a surge in private equity buying. Many M&A specialists anticipated a rebound in deals for the second half of 2009, driven in large part by desperate, overleveraged owners who would be forced to sell cheap. As the industry enters the second half of a brutal year, Folio: looks at whether an M&A rebound will come true.
Credit Availability: Still Tight and Expensive
The largest issue facing magazine M&A is the lack of senior bank financing, says Veronis Suhler Stevenson Secured Capital partner Hal Greenberg. "Even if it is available, the cost is around 10 percent," he says. "Therefore, most private equity players are on the sidelines as they cannot borrow. This is even more true for companies with an EBITDA of under $10 million—there is little capital available to them."
Greenberg says this void has been filled, to a limited extent, by more expensive mezzanine financing. Taking on additional debt now could be possible for some buyers since asset values are low.
And, until more bank financing becomes available, deal multiples will remain in the single-digits. "Right now, buyers can only borrow 2X to 3X EBITDA for an acquisition," says DeSilva + Phillips managing partner Reed Phillips. "As the credit markets improve, that leverage will increase and provide the liquidity needed to get more deals done."
Strategic Buyers, Market Consolidation
Now, according to Greenberg, is a good time for private companies with strong balance sheets to take advantage of strategic assets for sale. One aggressive strategic buyer has been enthusiast magazine publisher Bonnier Corp., which completed three acquisitions in recent months. In September 2008, it purchased Working Mother publisher Working Mother Media Inc. from MCG Capital and founding CEO Carol Evans. In December 2008, it bought Scuba Diving from F+W Media. Then, in June 2009, Bonnier acquired American Photo, Boating, Flying, Popular Photography and Sound & Vision from Hachette Filipacchi Media U.S. In addition to the print titles, the deal included associated Web sites, books, licensing agreements, videos and branded events.
Deals Picking Up But Remain Small
Michael Alcamo, president of New York City-based investment banking firm M.C. Alcamo & Co., issued a bold prediction in February—based on his evaluations of the National Bureau of Economic Research's empirical data—that the U.S. economic recession would end on or before June 1. By June 15, he was confident that a rebound had in fact begun. "The banking sector has stabilized," Alcamo says. "There is enough investor confidence in the market that the stock indices are up 35 percent from their lows. Major banks have been in a hurry to return Troubled Asset Relief Program (TARP) funds and were simultaneously to raise capital from public investors. That would not be possible unless we were exiting a recession."
Alcamo, as well as several other M&A executives, predict an uptick in consumer and b-to-b magazine M&A activity through the remainder of the year; a mixture of low and high quality deals. "We are seeing signs that magazine M&A is rebounding, but it is a gradual recovery so far," says Phillips. "I expect to see more non-core properties being sold as well as distressed titles. Mixed in will surely be some good properties, too, but for the most part the transactions will be of lower quality than in previous years."
The recession has hit b-to-b particularly hard, with many large- and mid-size publishers burdened with high debt levels from previous acquisitions, leaving them "vulnerable to a downturn in the economy," Peters says. "Although the b-to-b market is currently consumed with debt refinancing discussion, our longer term view is that the next chapter for b-to-b media will likely be one of deconsolidation. We expect to see a shift from horizontal aggregators to smaller, vertically focused companies that offer a holistic market approach, built around multiple revenue streams, including print, events, online, data, research and marketing services."
Regional M&A, which also had a sluggish first half, is poised for a rebound, according to Regional Media Advisors president Kim Mac Leod. "We've started to see that more buyers have come back to the market," says Mac Leod, noting the lack of significant deals through the first six months. "Although it is always tough on those sellers facing this kind of distressed situation, this market has shown that there are far more buyers for good but stressed regional publishing companies than we've historically seen. I don't, however, anticipate that the market will be 'normal' until the businesses themselves start to see sustainable revenue growth."
Notable Deals of First Half 2009
Some buyers are taking advantage of favorable M&A pricing. Here is a breakdown of some of the top publishing deals of the first half. 
Date: January 8
Buyer/Seller: F+W Media and Active Interest Media (F+W's Home Buyer Publications, AIM's Southwest Art and The Collector's Guide)
Soundbyte: "The idea of swapping assets to strengthen the core markets of both companies makes enormous sense." Tom Kemp, CEO, Northstar Travel Media
Date: March 6
Buyer: 944 Media
Seller: Six Degrees
Soundbyte: "Regional publishing companies can maximize their margins by going deeper into existing markets before they expand into new ones, and this permits 944 to do both efficiently." Kim Mac Leod, president, Regional Media Advisors
Date: April 3
Buyer: a subsidiary of ACI Capital and American Securities
Seller: First Capital Group (InnoVision Health Media)
Soundbyte: "Our company really struggled the last several years … they got a great company for only a little bit of money." Rob Lutz, president and group publisher, InnoVision Health Media
Date: April 7
Buyer: Sandow Media
Seller: private investors (Western Interiors & Design)
Soundbyte: "The idea with the acquisition was to pick up a fantastic national sales team and a list of paid subscribers with great demographics [and merge the title with luxury home magazine network, Luxe]." Adam Sandow, CEO, Sandow Media
Date: April 12
Buyer: Active Interest Media
Seller: Gloucester Publishers (Old-House Interiors, Arts & Crafts Homes, Early Homes and the Design Sourcebook)
Soundbyte: "We think this is a time when you'll see a lot of consolidation in the market by stronger players like AIM." Reed Phillips, managing partner, DeSilva + Phillips
Date: June 1
Buyer: WiesnerMedia
Seller: WQED Multimedia (Pittsburgh, Pittsburgh City Guide, Home and Garden and Pittsburgh Weddings)
Soundbyte: "Pittsburgh is a great market and it was a magazine that, under its former ownership, never got to realize its full potential." Kim Mac Leod
Date: June 2
Buyer: Bonnier Corp.
Seller: Hachette Filipacchi Media U.S. (American Photo, Boating, Flying, Popular Photography and Sound & Vision)
Soundbyte: "This is an excellent time to buy quality brands and to grow market share." Terry Snow, CEO, Bonnier Corp.
Meet the Author
---