Magazine Job Report 2008

Part II.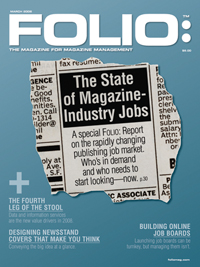 NOTE: CLICK HERE FOR THE PDF VERSION (INCLUDES CHARTS)

Jobs Aren't Becoming Obsolete But Some People Are
On the whole, employees are being asked to do much more than in the past. Sixty-four percent of respondents to FOLIO:'s survey say increased workload is the biggest change in their responsibilities, as opposed to 27 percent who cited more online/new-media related tasks. "No jobs are becoming obsolete—just individuals that don't contribute at the level we need them to," says Rubin. He says editors need to be much more "platform agnostic," with a mindset focused on telling stories in multiple forms rather than just on editing or producing text.
"There's more of a melding of jobs," says Kaplan at Hearst. "There's a moving away from bifurcated, 'I just do this' or 'I just do that.' It's more hands-on across titles and multimedia platforms. The days of the pure editorial assistant who just Xeroxes and fetches coffee are gone."
For some publishers, online jobs are experiencing an opposite trend. "We have been shifting our staffing strategy from hiring Web generalists to increasing levels of specialization," says Rubin.
Some of the new jobs emerging are for back-end technology creation and management. Many large publishers, including Hearst, have hired Flash developers. ZweigWhite hired Web designers for its online store and training seminars. At other companies, back-end support is outsourced, which means it's increasingly important for employees to understand how to work with technology-providing vendors.
Other jobs are related to content planning and creation. The Society for Human Resource Management hired a Web producer for audio and video. Make magazine even hired a Flickr photo pool curator to manage the frequency and quality of photos on its site. Make hired Collin Cunningham in January—described by senior editor Phillip Torrone as an "artist, musician and maker fascinated by the realms of sound and vision"—to sift through the astounding number of photos submitted to the Make Flickr photo pool and update the magazine's Web site each day with the best ones. Make associate publisher Dan Woods says this position was created not to raise the frequency of photos submitted on the site but rather to raise the quality—another sign that it's not just about having multimedia features but having ones that truly enhance the value of your offerings.
Meanwhile, according to Kaplan, art and production jobs are merging—job responsibilities grow and overlap, requiring art and production staff to acquire new skills.
SHRM has created some unusual new Web positions, including Web metrics analysts, a Web communities manager, a multimedia producer for video and audio, and a person to manage e-commerce initiatives such as an online shopping cart that allows users to sign in and purchase multiple products, according to Rubin.
ZweigWhite hired a Web designer for a similar venture—an Amazon-inspired intuitive bookstore that suggests related products. "It requires a different type of Web designer than the typical role," says Ryan. His company also hired a designer for its online training platform, which consists of 60 to 70 seminars and 60 to 75 Webinars.
A relatively new position at TechTarget is vice president of social media, a post held by Sean Brooks. Creating such a high level position focused on social media indicates that the company is taking social media seriously.
Future US recently named Richard McCarthy as director of consumer marketing, a position the company says "redefines the role of the traditional magazine circulation director." "With my role, we expand beyond the traditional subscription and newsstand-only model to new products that leverage the existing audience but outside traditional functions of the circulation department," says McCarthy, who formerly served as director of business development with direct marketing services company ParadyszMatera. "In traditional circulation marketing, there are still a lot of areas where specialized skills are necessary to expand. One is search engine marketing. It's very easy to get started with something like Google but to really optimize your pay-per-click campaigns you either need somebody internally who can dedicate a lot of time to that or outsource to an agency that can really monitor this. It's beyond the scope of traditional circulation roles but at same time it's a direct response tool to drive individual subscriptions and sales. It requires some skills that aren't inherent in more traditional circulation jobs."
Michael Sheehy, director of circulation at Wenner Media, says, "Jobs in circulation are more focused on creating sales now. New circulation jobs emphasize creating new programs, new strategic partnerships, figuring out how to fulfill, renew and bill these new kinds of orders and how to compare P and Ls." According to Sheehy, everyone in the department needs to understand the fulfillment, finances, billing and renewals, ABC compliance, and legal implications of the programs they work on.
While for some, like William Pecover, CEO of Haymarket Media, "increasing online skills sets across all functions is such an obvious requirement it barely merits mentioning," others have some distance to go to catch up to the curve.
Robert Fromberg, editor-in-chief at the Healthcare Financial Management Association (HFMA), says the most important new employee for a lot of associations is someone who can bring editing and writing expertise usually associated with print to electronic channels, someone who make a content plan for online and knows the "e-versions of features, front of book, and back of book" items. Fromberg sees this position as a Web-focused managing editor or editor-in-chief.
Another increasingly valuable position he sees in the association world—which is seemingly true across the board—is someone to write sponsor-supported content.
At Hearst, several new jobs—including photographers, managers and assistants, according to Kaplan—emerged when the company created an in-house digital photography studio in 2007, an idea picked up from the company's Australian magazine counterpart. Hearst also transitioned to doing its own prepress color work—each magazine now has one dedicated color person, which expedites the process considerably. The company is now considering an as-yet undefined position—inspired by the "sub-editor" positions at their magazine counterparts in the U.K. and Australia—whose responsibilities would include line editing, copy editing and cutting, fact checking, caption writing, and so on.
Training Existing Staff Or Hiring New Skill Sets?
Employees are taking on new responsibilities but where do these new skills come from—new people or old dogs learning new tricks? Publishers seem split on making the investment in training or simply hiring new people who already have the skill set they're looking for. In response to FOLIO:'s reader survey, one respondent said, "My biggest concern is if I'll be replaced by a digital media specialist."
And with good reason, especially on the editorial side. While publishers used to say they were interested in someone who could tell a story, now they're looking for some pre-defined skill sets. Some observers say editors are either part of Web culture or they're not, and if they need to be trained, forget them.
The recent acquisition of new media publisher FierceMarkets by Questex Media was cited as a way to gain faster digital revenue for Questex and international expansion for FierceMarkets. However, some observers think the real reason behind the move was to add online expertise into the mix. "My dislike of e-mail newsletters doesn't change the fact that I like the Questex/FierceMarkets deal," wrote media consultant Paul Conley on his blog at paulconley.blogspot.com. "I have a feeling (and it's really just a feeling, I don't have much hard information), that the deal isn't really about newsletters. Nor, for that matter, did Questex buy the company because FierceMarkets also distributes news via RSS. Nor is the deal about FierceMarkets' cash flow or profits. I think Questex decided to buy a staff that understands the Web."
Not all publishers are against training, though. Rubin says, for editorial, "It makes more sense to take fine journalists and expand their ability to tell stories than to look for new people. Any publisher not providing professional development to broaden employees' skills is not being responsible and ripping people off of their future of being able to work in a changed world."
Employees at his association adapt with a combination of organized training and learn-as-you-go. Rubin's editors received formal training to use newly-purchased cameras but he then asked each one to bring the cameras home and practice using them on the weekend, not just to learn how to use them but to use them well.
Some departments like circulation, he says, get less formal training because things have evolved more slowly, and also because the organization's printer is held accountable to help educate staff.
At Texas Monthly, bringing on a new Web editor helped transition the rest of the team to an online mentality. "This person brought a wealth of experience. That's what made him such a good candidate," says Elynn Russell, senor vice president of operations.
Promoting or Hiring?
The majority of respondents to the FOLIO: reader survey, 71 percent, say their company does offer them opportunities for growth. However, some observers say the path of advancement within an organization is becoming more difficult. "I do support that associations are a very stable environment for magazine jobs," says Fromberg. "People in the higher positions stay there. But if someone takes the path through the traditional hierarchy, upward mobility can be tough. The true opportunity for some of the newer people is new media positions. People who carve that niche for themselves will absolutely find opportunity."
Typically with senior management, when somebody has a medium level job in one market, they move to a publisher job in another market. What's less successful is hiring someone for expertise they just don't have and magazine industry employees could soon find themselves competing not just with each other, but experts from other arenas. "If you want somebody to do business development online and get listings in other places, we don't have that expertise in-house," says Schmidt-Fellner. "Most of the Internet positions we've hired are from outside. The downturn of the real estate market has made those people available. Real estate is a pretty mature industry with the Web. There are plenty of people who've been on the Web in real estate for five or 10 years, it's not a new business for them."
However, on the sales side, many publishers are sticking with veteran salespeople who know how to sell the brand and are willing to learn digital skills, rather than the hotshot techie who can explain the applications but doesn't have the client relationships, or even an understanding of the rest of the product mix. "We still love print, we do a lot of magazines, we plan on doing them for a long time, and print continues to be the core of our business," says Palm. "When we look for people to hire, we primarily look to hire from other publishers. People who are Web-only don't understand the print perspective."
That's true of publishers ranging from Technology Review to Sports Illustrated. "We had digital salespeople who hadn't landed this one account in three years of trying," says Dick Raskopf, publishing director of Sports Illustrated. "We trained a print salesperson on digital and they landed the account in three months."
CurtCo is looking for salespeople with more specific category experience, such as hiring a salesperson from the jewelry category, another with extensive travel and hotel experience, and another with extensive fashion experience."I would say that with some exceptions, all the really good people are snapped up very quickly," says Arnold. "There is some pressure on salaries but nothing close to the kind of inflationary situation we saw three or five years ago. It's challenging to find people with multiplatform experience. On the event side it's a little easier, it's just a question of whether those people want to bring their skill set to the magazine world. With a choice of hiring a Web skill set or luxury experience, we go with the Web experience and feel we can bring them up to speed on the luxury part of things."
PART I: Hiring Forecast
PART III: Digital Age Recruiting
Methodology
The survey sample of 12,270 was selected by
FOLIO: from FOLIO:'s domestic circulation. Data was collected via an
email survey from February 4 to February 7, 2008. The survey was closed
for tabulation with 885 usable responses, a 7% response rate. Margin of
error for percentages based on 885 usable responses is 3.2% at the 95%
confidence level.
Meet the Author
---