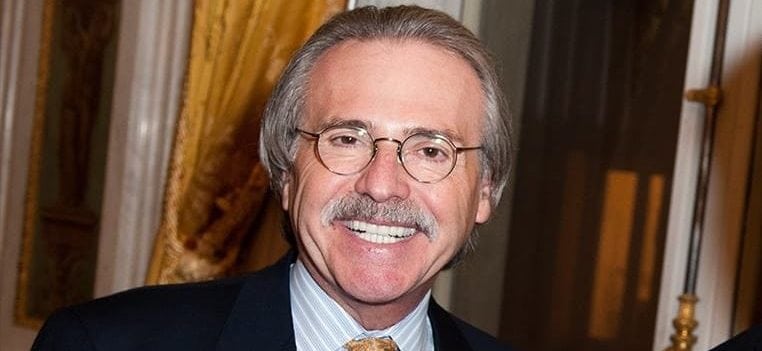 ---

It was only four months ago that American Media, Inc. emphatically denied any "catch and kill" coordination with then-candidate Donald Trump and his personal lawyer, Michael Cohen, calling accusations to that affect "reckless, unsubstantiated, and false," and "an attack on the First Amendment."
"Paying for information has long been a practice of The National Enquirer and to suggest that it has only paid for, and not run, stories about any particular person is absurd," read an official statement from chief content officer Dylan Howard in April.
That statement, we have now learned, was released a few months after Howard and AMI's chairman and CEO, David Pecker, emptied a safe containing "documents on hush money payments and other damaging stories it killed," the Associated Press reported Thursday.
Pecker has now chosen not to exercise a different type of constitutional protection—reports The Wall Street Journal—instead accepting federal immunity in exchange for information related to hush-money payments made to Stormy Daniels and Karen McDougal during the 2016 campaign.
Life comes at you fast. At least, it sure has for the staffers of Men's Journal, who—barely a year removed from Wenner Media's greener pastures as a sister title to Rolling Stone—now find themselves operating another instrument of Pecker's complicity machine, forced by an out-of-court settlement between AMI and McDougal to place the Playboy model-turned-fitness expert on the magazine's September cover.
The shoot by photographer Dustin Snipes, as well as McDougal's "go-to core moves," were entirely recycled from a Spring 2017 cover story in fellow AMI title Muscle and Fitness Hers, which occurred months before AMI had even acquired Men's Journal.
AMI has not responded to requests for comment about McDougal or Cohen—though it has disputed reporting of any internal resistance to the cover story at Men's Journal—and none of the MJ staffers Folio: contacted were willing to speak on the record (who can blame them?).
But in addition to a separate WSJ report that objections from Men's Journal chiefs Jay Gallagher and Greg Emmanuel to placing McDougal on the cover of the magazine—which almost exclusively features male celebrities on its covers, the rare exceptions typically being cars—fell on deaf ears, manifestations of internal strife at Men's Journal aren't difficult to find.
A handful of items from the print edition have already made it onto Men's Journal's online platforms: a feature on MSNBC's Ari Melber, a profile of investigative journalist Billy Jensen, but good luck finding McDougal or her workout tips outside of print, where they occupy pages 104 and 105 of the 112-page issue.
The magazine's Instagram, Facebook, and Twitter accounts each opted to share an alternate September cover featuring a Mercedes-AMG—much more in line with the historical aesthetic of the magazine's annual "Style + Design" issue, which many of its social media followers noted.
This would seem an odd choice under normal circumstances, given that copies of Men's Journal on newsstands as well as those mailed to subscribers all seem to bear the McDougal cover.
"I've been a reader since the first issue, but with Pecker shoving his Trump subservience onto the cover and inside this month's issue (against the editors' objections), I won't be buying any longer," reads one Facebook comment.
A search for "Karen McDougal" on mensjournal.com does yield a mysterious column attributed to "The Editors"—a byline that seems otherwise reserved for editor's letters, listicles, and product recommendations—which claims, in its headline, to dish out "the truth about the Playmate," but mostly just quotes the press release AMI distributed in March to refute claims made by McDougal's attorney, Peter Stris, prior to the April settlement between the two parties.
The column is filed under "adventure," presumably because the site's taxonomy had no existing tag for "our bosses made us run this."
It may have been easier to ignore in a simpler time, when such bad faith was confined to the pages of the Enquirer or OK!, titles that have at least conditioned the general public to approach them with healthy skepticism—before AMI had snatched up Men's Journal, or Us Weekly, or had emerged as such a legitimate suitor to acquire Time magazine that its parent company's CEO was driven to reassure the public that the venerable title would not be sold to Pecker.
All of this is to point out that the magazine industry is, in many ways, a symbiotic collective, and the actions of the handful of publishers who control much of the industry's consumer-facing scale tend to have an outsized effect on the legitimacy of the sector as a whole. We are only as strong as our weakest link, and rumors of untoward behavior at AMI predate its present level of proliferation on newsstands across the country.
"With fake news leaving most Americans confused about even the basic facts, magazine media keeps it real," reads an ad, on page 51 of the issue, for the MPA's #BelieveMagMedia campaign—to which the National Enquirer publisher is one of 39 signatories. "Being real matters. That's a fact."