Industry Reacts to Death of Primedia Founder

Charlie McCurdy: O'Reilly 'forever changed the face of specialty publishing.'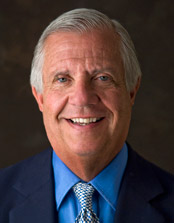 A well-regarded magazine publishing executive, Bill Reilly began is career in magazine publishing three decades ago as president of Macmillan, Inc. Most notably, he founded Primedia (then K-III Communications) in 1989 in partnership with Kohlberg, Kravis Roberts & Co. Following his departure in 2001, Reilly helped found Aurelian Communications and most recently served as chairman of Summit Business Media, a company he founded in 2006.
Reilly [pictured] died at his home Friday after a year-long battle with cancer. He was 70.
"Bill Reilly forever changed the face of the specialty publishing industry," says Apprise Media CEO and longtime friend Charlie McCurdy. "As president of Macmillan in the 1980's and as the lead 'I' of K-III in the 1990's, he assembled extraordinarily talented teams—many of whom have gone on to significant leadership roles throughout the media industry. His focus on tight management and aggressive aggregation are standard operating procedures throughout our industry today, and are a big part of his professional legacy."
Andy Goodenough, who succeeded Reilly as CEO of Summit Business Media, says he will remember Reilly for the way he treated his colleagues more as friends than just co-workers. "He was too young to go," says Goodenough. "He loved people and he loved his colleagues. His business relationships went beyond the workplace. There was an element of personal associations there."
In a note posted to the Summit Business Media Web site, Goodenough remembered Reilly as "a Renaissance man, a student of history, books, art –a generous man—and an all-around great guy." Since launching two years ago, Summit has grown significantly, with its portfolio now including 25 magazines, 150 reference books and electronic products, and 100 live events.
DeSilva + Phillips managing partner Reed Phillips also knew Reilly well. "I am saddened by his sudden death," Phillips wrote in an e-mail to FOLIO:. "He was a game-changer in the magazine industry when he and KKR created Primedia, one of the first leveraged buildups involving magazines.
"His efforts put magazines on the map for private equity buyers who have since followed his original path and have acquired billions upon billions of dollars worth of magazine assets," Phillips continued. "His vision for the financial structuring of Primedia single-handedly improved the M&A prospects for the entire magazine industry by creating a whole new universe of buyers—private equity firms."
Meet the Author
---