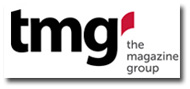 Custom publisher The Magazine Group is rebranding as TMG. The name change, it said, better reflects the group's expanded services beyond editorial, production and design work for print magazines.
The group said that while magazines remain the core of its business, the word 'magazine' started to "feel a little tight at the seams" as its portfolio of services grew over the years. Beyond print, TMG offers online video and digital media services.
In connection with the rebranding, TMG also has relaunched its Web site.
According to TMG co-founder Richard Creighton, while the group's name has changed, no changes have been made to the services it has provided. "Our clients, employees, vendors and friends have been calling us TMG for years," he said in a statement. "We're just making it official."
Based in Washington, D.C., TMG produces 440 magazine and online products annually.