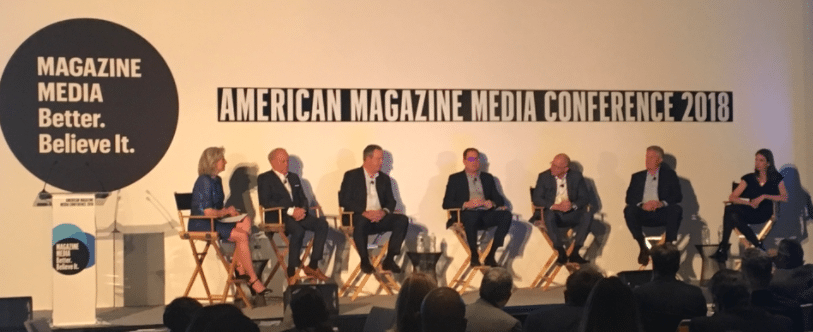 ---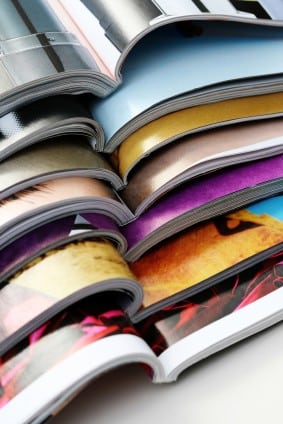 NEW YORK — Magic 8 balls dotted the ballroom tabletops, but clairvoyance about the future of the magazine industry was in short supply at the 2018 edition of the American Magazine Media Conference, in which executives from across the magazine world gathered in downtown Manhattan to discuss the resilience of their brands and the adaptiveness of their businesses in the face of an uncertain path forward.
Alan Murray, now billed as chief content officer, Time Inc. Titles, Meredith Corp., joined WPP founder Martin Sorrell for an opening discussion about the underlying business challenges, in advertising and otherwise, faced by media companies—a conversation that in 2018, like in previous years, centered around Google, Facebook, and to a lesser extent, Amazon.
Opining that Google and Facebook are indeed media companies, not technology ones as they self-identify, Sorrell agreed with his friend Rupert Murdoch's recent assertion that media brands ought to charge the platforms carriage fees to distribute their content—a goal Sorrell says is worth overcoming the inherent difficulties involved with getting hyper-competitive publishers to work together.
If there's anything that unites the industry's top brass, after all, it is a shared fear of Silicon Valley's impending takeover of not just the digital advertising market, but society as we know it. In 2018, that paranoia has progressed so far as to draw straight-faced comparisons to the tobacco industry of the mid-20th century.
At last year's conference, then-Meredith Corp. CEO Steve Lacy concluded the late-afternoon C-suite panel by referring to Google and Facebook as "our true enemy." This year, Hearst Magazines president David Carey went a tad further.
Citing issues such as distracted driving and the damaging physical and psychological effects that smartphone ubiquity has on children and teenagers, Carey implied that the current state of social media is reminiscent of big tobacco's historical apathy toward the damage its products were causing to society.
"For advertisers," Carey continued, "the next piece of that discussion will be, 'What are we supporting here?'"
To rewind, MPA president Linda Thomas Brooks appropriately kicked off the discussion by remarking, "What a difference a year makes."
Indeed, the annual state-of-the-industry panel's composition was a reflection of the recent wave of consolidation that's reduced last year's five-largest publishers to three. Carey and Condé Nast CEO Bob Sauerberg were the only two panelists to return from last year. Tom Harty, tapped last week to succeed Lacy as CEO of Meredith Corp. following that company's acquisition of Time Inc., New York media CEO Pam Wasserstein, Bonnier Corp. CEO Eric Zinczenko, and Active Interest Media CEO Andy Clurman helped fill the chairs left empty by former Time Inc. CEO Rich Battista and Rodale chairman Maria Rodale.
The focus was decidedly forward-looking. The word "print" was hardly mentioned until the very end of the discussion (by comparison, terms like "revenue diversification" and "legacy" were used liberally).
One of the few who did explicitly reference his company's magazines was Clurman, who argued that there appears to be something of a disconnect among marketers between their metaphysical passion and feelings for print magazines and the empirical data that pulls them toward digital ad buys (this, in some ways, echoed an earlier point made by Time Inc./Meredith Corp. senior director of lifestyle titles, Julie Alvin, that data should complement natural instinct, not supplant it).
Sauerberg extolled the success that Condé Nast has experienced with The New Yorker—by the way, the undisputed star of this year's AMMC, garnering four of the ten "Cover of the Year" finalist nods and headlining a fantastic midday discussion between one of its contributors, Ronan Farrow, and Gayle King—adding, "If you get the content right, there's a huge payday on all platforms."
Wasserstein said New York Media's path forward will mean taking the magazine's unique sensibilities and applying it to new environments based on its audience's strongest passions, a strategy that has already manifested itself in a trio of digital offshoot brands: Vulture, The Cut, and The Strategist.
Citing advertisers' concerns about transparency and brand safety, Wasserstein added, "Magazines aren't only brand-safe, they're brand-enhancing."
At Bonnier, Zinczenko said that he plans to achieve a revenue balance of 33-percent print, 33-percent digital, and 33-percent "ancillary activities" by 2020.
Harty remained mostly tightlipped about the future for the newly merged Meredith and Time Inc., but he did concede that rumors of the Koch brothers wielding influence over the conglomerate's titles are "completely untrue."
Highlights of the aforementioned Gayle King interview with Ronan Farrow—who vaulted to journalistic fame with his reporting on Harvey Weinstein's history of sexual assault and intimidation—included Farrow's admission that Weinstein had indeed threatened him in an attempt to derail the story, the assertion that the reporting and its resonance was proof that "magazines are not dead," and the thinly veiled swipe at NBC News that "outlets who have credible evidence of ongoing crimes but do not report on them should take a hard look at their practices and principles."
On a lighter note, Gayle King just discovered HQ Trivia—and she loves it.
Journey's "Don't Stop Believing" introduced an earlier panel touted as the "next generation" of magazine talent: Time Inc./Meredith Corp.'s Julie Alvin, AMI's Eli Lippman, and M. Shanken Communications' Jessica Shanken Reid—moderated by New York magazine editor Adam Moss.
Asked about the future of print, the panel mostly agreed that the magazines to survive on ink and paper will be those that focus on brand affinity, the trust of their readers, and niche interests. Nobody really wanted to answer Moss's follow up about which types of magazines won't survive, although Lippman conceded, "I'd be nervous about launching a print magazine right now," citing the advantageous position of long-lasting titles with strong foundational legacies.
Despite the lingering uncertainty over the future—which, for the second year in a row, the C-suite panel seemed to openly embrace in the spirit of flexibility and diversifying the bottom line—the underlying message of the day was that brands—in print, digital, events, or otherwise—remain magazine media's most valuable asset, and moving forward the industry has no choice but to continue to lean into those brand identities and the loyal audiences that follow them.
For more of what you may have missed at this year's AMMC, click here.