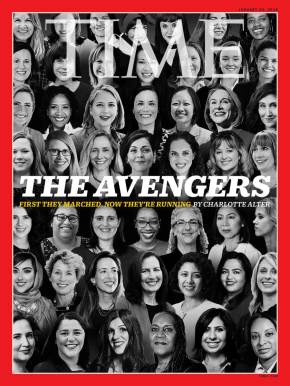 Time recently published a story detailing the inspiration women were taking from the 2018 Women's March to pursue public office. It looked at how the movement attempts to turn motivated anger into political change and was a no-brainer for serving as the cover story of the January 29 issue. The image used in the front of the magazine included the faces of 48 such candidates, arranged in a grid, with the headline "The Avengers" superimposed in the center of the page.
The cover design contains a degree of subtlety such that potential readers might not notice the gist of the story as they scan over it on the newsstand. But creative director DW Pine says the issue—and its cover—was a massive hit on social media.
As it does every week, Time unveiled the cover on television and the image caught fire on Twitter and Instagram, creating almost instantaneous viral content. It was then shared by blogs and publications within the cities and towns where the women were running for office. It operated as a poster into the issue; one that reminds readers that Time "serves a tremendous purpose," says Pine.
It's no secret that newsstand sales have suffered across much of the magazine industry. Retail sales of magazines fell 52 percent in North America from 2011 to 2016, and 12.4 percent in 2016 alone, according to MagNet. While 2017 figures have yet to come out, there's little hope that the trend has reversed.
Instead, magazines have turned to other means to drive readership, from improving their online offerings to growing their subscription businesses. Within all of this disruption, the cover no longer needs to draw eyes as people walk along the street, passing their local newsstand. Instead, it has become a marketing tool that magazines use to drum up publicity for new issues and offer readers an image on social to draw them to the website or latest cover story.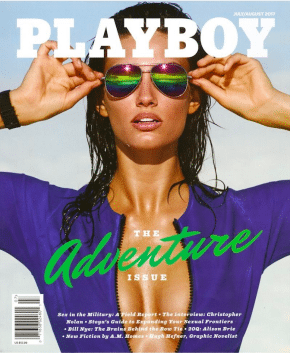 For Chris Deacon, creative director of Playboy, this transition away from the newsstand has freed his artistic process in many ways. "Choosing the cover now, it's sort of like: What is the best image?" says Deacon. He doesn't have the weight of who will appeal to the masses or what might drive the most casual buyers. Instead, he can pick the most relevant, beautiful and edgy image, all buzzwords that Playboy has long tried to live up to.
The aspect that has changed the most since the newsstand has fallen out of favor is cover lines. These one-line sales pitches that describe what's in the issue have become less common on many magazine covers as creative directors focus on selling eyeballs online with an image. Deacon doesn't have to worry about those anymore, as most Playboy covers have a headline, with only one or two lines of text. But he adds that the more things change, the more Playboy doesn't.
Playboy never splashed its covers with celebrities "for celebrity's sake." It's always had a strong core subscriber, which allowed it the flexibility to use its cover as a poster. It isn't operating in a vacuum, of course; the magazine recognizes when certain covers connect with online viewers or social media influencers. It's just that when you "get one million likes, I don't think one million people will buy magazines," says Deacon.
He isn't alone in that sentiment. The New Yorker's magazine covers are iconic, but according to art editor Françoise Mouly, the goal was never meant to draw newsstand readers into the fold. Instead, it's a separate art piece outside of the magazine that's a reflection of the time or moment in which the artist is creating.
If you look back at the covers in the 1930s, 40s or 50s, they describe parts of society that would be nearly impossible to describe today, "like common assumptions, stereotypes and prejudices," says Mouly. Her artists are doing the same with their own cover designs.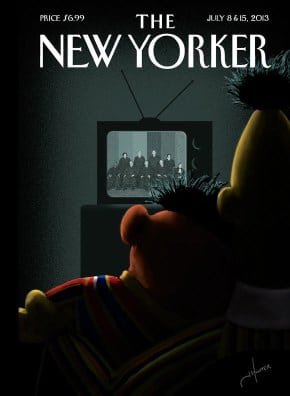 Mouly works with around three-dozen artists who all bring in their own point-of-view when designing a cover for an issue. Each cover is a "dialogue by the artist," which is a long-standing tradition for The New Yorker, and it can still lead to dramatic online impact. After two Supreme Court rulings in 2013 which severely weakened statutes against gay marriage, the magazine's cover sported an image of Sesame Street's Bert and Ernie cuddling in front of the television, which showed the nine court justices. It was among the most shared covers in the magazine's history.
But where Mouly's artists have freedom—since they can do a cover for something as mundane as the start of spring or as radical as an unflattering political cartoon—Pine's Time covers traditionally encapsulate the week's news in as neutral a way as possible. However, partially because of the changing landscape of the media world and because of the current administration, Pine has been able to take a few more chances with his cover images, such as superimposing part of the Kremlin on the White House or depicting then-candidate Trump's face melting like wax, with the headline "Total Meltdown."
"Presenting the president that way is a risk for Time," says Pine. "But we're balanced, with good reporting and journalism," he adds, ensuring that the images can connect with all types of readers, no matter their political affiliation.
Yet, in many ways, the basic principles of the cover design haven't changed, even if it's more about attracting readers to the website or ensuring there's buzz on social.
"It has forced me to think about first principles of covers even more," says New York print editor Jared Hohlt. "How long does it take you to understand this cover?"
If it's longer than it takes to scroll past the image online, then it's too long. And that's not much different then the time it takes to walk past a newsstand.