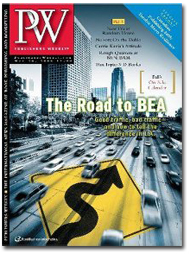 UPDATE: Magazine Closures Begin
Reed Business Information employees are bracing for some bad news following a memo on New Years Eve from CEO John Poulin.
In the memo, Poulin said the company so far has been unable to sell the majority of its U.S.-based magazine products as a whole and therefore the company will need to close certain titles and lay off a number of employees during the first half of 2010. RBI is, however, in "advanced discussions" to sell a number of titles to separate purchasers, he wrote.
It was not immediately clear which titles might be marked for closure or how many staffers may lose their jobs as a result. An RBI spokesperson declined to comment.
Last month, RBI sold Broadcasting & Cable, Multichannel News and This Week in Consumer Electronics (TWICE) to Wicks Group-owned NewBay Media. So far, that deal is the only one RBI has pulled off since putting the majority of its trade magazines—including Professional Builder, Publishers Weekly and Tradeshow Week—back on the block in July. At the time, parent company Reed Elsevier said it would retain RBI's Reed Construction Data, RSMeans, Variety, MarketCast, LA411 and BuyerZone properties.
Reed originally put RBI on the block in February 2007 but dropped the sale in late 2008 after bids were said to have fallen from approximately $2 billion to $1 billion.
Click here to read Poulin's memo, via paidContent.