Magazine Ad Spending Down Despite Overall Increases

Magazine ad spending declines 2.9 percent in Q3, according to Kantar Media.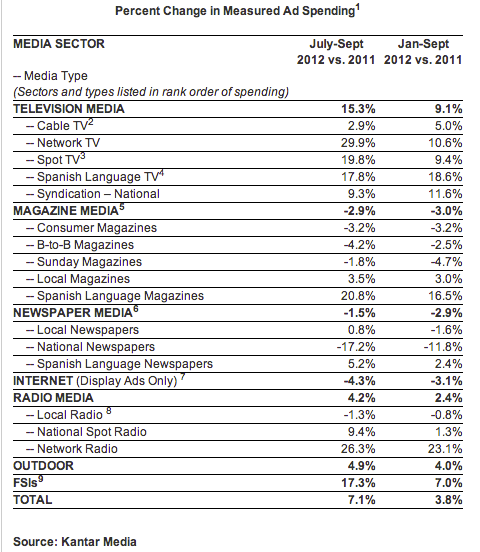 Total ad spending rose more than 7 percent in the third quarter with the Summer Olympics and political campaigns in full swing, but those gains failed to materialize in print media.
Magazines took a 2.9-percent hit for the quarter, while newspaper ad buys fell 1.5 percent, according to data released by Kantar Media on Monday. Those results are in-line with the rest of the year for magazines, who are down 3 percent through the first nine months of 2012.
Internet display ads (which do not include video or mobile) suffered the biggest overall losses with a 4.3-percent decline.
Radio, outdoor and FSI spending each enjoyed bumps, but television media was the big winner with 15.3-percent growth overall, including a 30-percent rise in the network category.
Broken down by category, consumer and b-to-b magazines fell 3.2 and 4.2 percent, respectively. The report notes: "Weaker spending from pharmaceutical and direct response marketers negated gains from the apparel and food categories."
Sunday magazines appeared to stabilize with 1.8-percent losses after a 7.6-percent decline in the previous three-month period, but, the report points out, the numbers may be skewed due to an extra Sunday included in in this quarter.
The news for magazines wasn't all bad however.
Local titles saw a 3.5-percent increase for the quarter and ad spending in Spanish-language publications spiked 20.8 percent-the third-highest growth sector in the study. Those numbers come on the heels of strong 8.9-percent growth in second quarter, as well.
Spanish-language newspapers also had a strong quarter with a 5.2-percent rise. 
To stay updated on the latest FOLIO: news, become a Facebook fan and follow us on Twitter!
Meet the Author
---