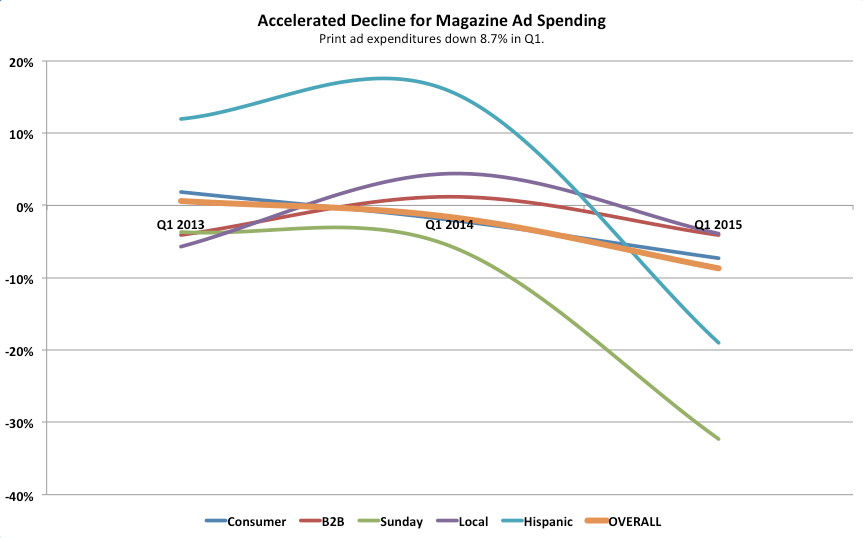 Advertisers are cutting their spending in magazines at a faster rate than they have been in the last few years, according to new data from Kantar Media.
The research firm's quarterly report shows that ad spending in print magazines was down 8.7 percent year-over-year through the first three months of 2015.
Local and B2B titles told the most positive story, down just 3.9 and 4.1 percent from the prior year, respectively. Each have been relatively steady performers over the last three years.
Consumer magazines had tracked closely to local and B2B, as well, until this year—the category took a 7.3-percent hit.
Meanwhile, Sunday titles led the decline, shedding nearly a third of previous spending. The category has been in some serious turmoil recently however, with the sale of Parade and Dash, and the closing of USA Weekend leading to a big chunk of lost inventory.
Surprisingly, ad spend in Hispanic publications also fell sharply. One of the few bright spots in magazine media in recent history, posting double-digit gains in each of the previous two years, the segment lost 19 percent in 2015. All other Hispanic media—television, radio and even newspapers—tracked by Kantar outperformed industry averages in their respective categories.
It's worth noting that the losses are for magazines' print assets only, though online display advertising, as a broad category, also fell 8.7 percent in Q1.
Overall, ad spending was down 4 percent through the first quarter of 2015, partially reflecting the loss of Olympic advertising last year.
"First quarter results are skewed by comparisons to last year and the $600 million of incremental spend generated by the Sochi Olympics," Jon Swallen, chief research officer for Kantar Media North America, says in a statement. "Excluding the impact of special events, core ad spending measured by Kantar Media was down about 2 percent in the period. Even after taking into account assumptions about the growth of spend on other unmonitored media, it has been a relatively slow start for the ad market in 2015."