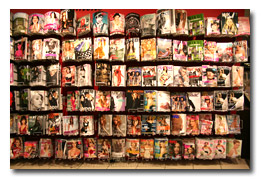 Consumer magazine advertising pages were down 12.9 percent during the third quarter, according to Publishers Information Bureau figures released today. Estimated ad revenue was down, too, slipping 8.8 percent.
Year-to-date ad pages were down 9.5 percent, the report says. Estimated ad revenue fell 5 percent compared to the same period last year.
Magazine advertising has been "negatively impacted by the ongoing weakness in the economy," said Ellen Oppenheim, executive vice president and chief marketing officer of the Magazine Publishers of America.
Percentage-wise, National Geographic Kids has taken the biggest hit year-to-date with ad pages falling 42.7 percent to 93.22. Among the largest ad page decliners are Diabetes Focus (-30.8 percent), Nickelodeon (-30.2 percent) and Hachette's Home (-28.3 percent).
Meredith's Ser Padres saw the largest ad page increase (up 54.8 percent to 117.29 pages). Other top gainers included Meredith's Renovation Home (up 43.4 percent), Scholastic Parent and Child (47.3 percent) and Mansueto Ventures' Fast Company (31.1 percent).
Condé Nast's Portfolio, which launched last year, has seen ad pages jump 38.5 percent through the third quarter. Other business magazines weren't so fortunate. Ad pages dropped 14.6 percent at BusinessWeek and were down at Forbes (-16.6 percent), Kiplinger's Personal Finance (-13.6 percent) and SmartMoney (-25.7 percent).
The newsweekly category continued to suffer with ad page declines at Newsweek (-16.8 percent), The Week (-4.6 percent), Time (-19.2 percent) and U.S. New & World Report (-28.2 percent).
All of the 12 advertising categories tracked by PIB saw declines through the third period. The biggest decliner, unsurprisingly, was automotive, with pages falling 23.6 percent and revenue down 19.9 percent.
For PIB's full year-to-date report, click here.
For PIB's third quarter report, click here.