A Mag Poised For Shutdown Finds New Life

A homecoming revives Convenience Store Decisions.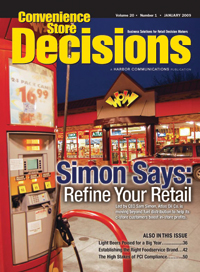 When Harbor Communications got wind in 2007 that Penton Media had decided to shutter Convenience Store Decisions, it pounced with an acquisition offer. Partly because Harbor co-founder Bill Donohue (and a former Penton retail division head) first launched the title back in 1990, and partly because Harbor sees an opportunity in print that many larger publishers no longer do.
"This  was an attractive opportunity for us," says Harbor president and co-founder (and former Penton president) Dan Ramella. "We approached them in October 2007 and the deal was finalized in about 30 days. We knew what we wanted; we were buying the brands and lists."
In fact, the deal was done so quickly that the last issue under Penton's ownership featured a farewell note from editor John Loftsock (who joined Harbor).
While editorial quality remained high and Penton previously invested in maintaining the circulation file (41,250 multi-unit executives), sales was neglected. At the time of acquisition, CSD had just four signed ad contracts for 2008. "This was late in the fall selling season and we had missed a huge industry show," says publisher John Petersen, who joined Harbor from Penton. "By the time we got our team situated and took complete ownership, we were kind of up against it for 2008."
Still, the fact that sales and marketing needed the most attention was a relief for Donohue, who pounded the beat with Petersen and group publisher Tom McIntyre. "When the owners are the day-to-day sales reps, that tells the marketplace they're dealing with the key decision makers," says McIntyre.
By the end of 2008, CSD had 58 advertisers. Through June 2009, the magazine has added 40 new advertisers on top of that and ad pages are up 83 percent through May, according to Patterson Advertising Reports.
No changes were made to CSD's pricing (the 6x rate card is $6,169 net) and McIntyre says Harbor weeded out some of the bad inherited contracts and promised advertorials.
"When ad pages drop, edit pages usually drop," he adds. "We promised a minimum 64-page folio and at least a 50/50 ad-to-edit ratio."
Ancillary Opportunities
Part of the CSD acquisition included a Web site and a dormant association called the National Convenience Store Advisory Group, which Harbor plans to revive.
The association was  purchased on Donohue's watch at Penton. While the National Association of Convenience Stores caters to the larger chains in the industry, the National Advisory Group was targeted to smaller chains with 10 to 100 stores. "We had to fix the magazine first but we've had a lot of questions from retailers about bringing it back," says Donohue.
CSD will host a reunion for the association in November and will talk with retailers about what direction it should take in 2010 and beyond. "We want this to be a retailer-run association," says Petersen. "If we do that right, the other side of balance sheet will take care of itself."
While the Web business remains relatively small for CSD, online revenue is up 35 percent and the brand has a goal of $100,000 in 2009.
Harbor has added a video player and weekly e-newsletters. CSD also does an annual three-part Webcast series. Sponsorships range from $3,500 to $10,000 per Webcast. Sam's Club was the exclusive sponsor in 2008 and McLane took this spot in 2009. "It's tough for a lot of people to travel these days and the Webcast enables us to deliver good content and research to their desks," says McIntyre.
Still, the print magazine remains the core product for CSD. "There is a lot of buzz with digital but it depends on whether your market wants it," says McIntyre. "Big publishing companies are really taking the spotlight off of print but I'm a big believer in print. I'm a believer in digital, too, but print is not dead and it doesn't have to be unless you don't pay attention to it."
Meet the Author
---