Maer Roshan's Anna Wintour Fetish

Radar editor returns to his muse.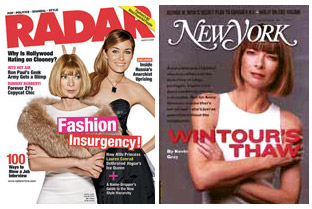 Radar editor Maer Roshan has a thing for Anna Wintour. The Vogue editrix—and FOLIO: 40 veteran—appears in a photo illustration on Radar's current March issue cover.
It's not the first time she has appeared on magazine cover (weird to say, but I asked a number of magazine veterans who couldn't recall Wintour on another national magazine cover ever—if you can recall one, let us know in the comments section). In September 1999, she was profiled in a New York magazine cover story.
New York's editor at the time? Maer Roshan.
Perhaps Luke Hayman, the hot shot designer responsible for New York's award-winning look and Time magazine's historic redesign, will be able to reign in Roshan's Wintour fetishism. This week, Hayman was hired by Radar as a design consultant.
Meet the Author
---